Photographer: Andrew Harrer/Bloomberg
Charting the Markets: Aussie Run Ends as China and the Fed Loom
The Malcolm Turnbull feelgood factor didn't last long.
By
Global markets continue to be swayed by ongoing concerns about China and Thursday's U.S. interest rate decision. Weekend data on industrial production and investment is continuing to rattle Chinese investors with the Shanghai Composite posting its biggest two-day drop in three weeks. The probability of the Fed hiking the cost of borrowing remains at 28 percent, according to futures contracts, down from 54 percent in early August. Asian and European stocks alternated between gains and losses.

Australia's dollar dropped after the nation's central bank said China's slowdown and market volatility increased risks to global growth. The warning came in minutes of the Reserve Bank of Australia's Sept.1 monetary policy meeting and brought an end the Aussie's six-day run of gains, the longest for almost two years. Former Goldman Sachs banker Turnbull was chosen as the country's new Prime Minister yesterday after he challenged Tony Abbott for the leadership of the ruling Liberal Party. The Australian dollar has dropped 13 percent against its U.S. counterpart in 2015.

In Japan, the Topix Index gave up earlier gains after the Bank of Japan refrained from adding to record stimulus. The equity measure was trading as high as 1.9 percent before the central bank announcement. It closed the session unchanged. Attention now turns to October, 12 months on from when Governor Haruhiko Kuroda and colleagues last announced a fresh round of quantitative easing. Economists say the need for further stimulus is pressing after the economy contracted last quarter and inflation languishes at zero. The Topix has sunk 14 percent since reaching an eight-year high August.

Autos were the best performing industry group in Europe after car sales in the region rose 12 percent in August, the second-fastest gain of 2015. Customers are snapping up models from Renault, Citroen, BMW and Mercedes-Benz as executive and consumer confidence in the euro-area rises to a four-year high and unemployment sinks to a three-year low. Europe is somewhat of an oasis for automakers as demand slumps in former emerging market strongholds China, Brazil and Russia. The Stoxx 600 Autos & Parts Index has dropped 22 percent since hitting a record in March.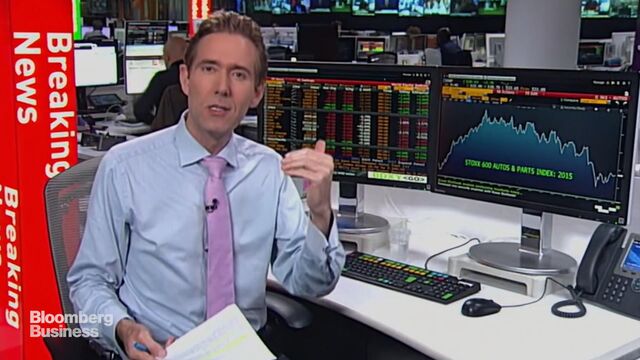 Mark Barton is a presenter on Bloomberg TV. Follow him on Twitter @markbartontv