Asia's Best Refuge From China Crash Is Just Next Door in Taiwan
By
Taiwan's stocks have outperformed emerging markets this month

Credit Suisse, JPMorgan, Morgan Stanley have overweight calls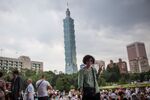 The best refuge from the Asian emerging market crash triggered by China's slowdown is right next door in Taiwan.
Global funds boosted holdings of the island's equities this month, while pulling money from securities in South Korea, India, Indonesia and Thailand, exchange data show. The Taiex share index has gained 1.3 percent in U.S. dollar terms so far this month, Asia's best performer after Korea, while benchmarks in Shanghai and Jakarta both slumped by almost 6 percent. The Taiwan dollar, Japanese yen and Singapore dollar all gained in September as money exited higher-yielding markets.

Credit Suisse Group AG, JPMorgan Chase & Co. and Morgan Stanley all have "overweight" recommendations on the island's stocks as companies from Taiwan Semiconductor Manufacturing Co. to Pegatron Corp. benefit from strengthening U.S. demand for tech products. A current-account surplus running at 14 percent of gross domestic product is also providing support for the local currency as the U.S. Federal Reserve prepares to raise interest rates.
"Taiwan is seen as better equipped to handle the fallout from China and the Fed," said Win Thin, global head of emerging-market strategy at Brown Brothers Harriman & Co. in New York. "Despite slower growth, Taiwan has relatively strong fundamentals compared to much of the emerging markets."
The prospect of a Fed rate increase is also giving a lift to the greenback, which has appreciated against 23 of 24 emerging-market currencies in 2015. This benefits Taiwanese equities as 75 percent of listed firms' revenue is denominated in U.S. dollars, according to Chung Hsu, a strategist at Credit Suisse in Taipei. While China accounts for 40 percent of shipments from Taiwan, two-third of these are re-exported to the U.S. or Europe, he added.
One risk for Taiwan is presidential and legislative elections on Jan. 16. The opposition Democratic Progressive Party's candidate Tsai Ing-wen is leading the polls, stoking concern relations with China may cool as the party is more skeptical of cross-strait integration than the ruling Kuomintang.
JPMorgan and Morgan Stanley cite cheap valuations as reasons to be positive on Taiwan's shares. The Taiex slid 12 percent in the last two months as data showed the economy was expanding at the slowest pace since 2012 and China unexpectedly devalued the yuan on Aug. 11. The benchmark gauge trades at 12.6 times reported earnings, compared with its five-year average of 17.7.
Carry Trades
Though the weakening of the yuan worsened prospects for exports, it wasn't all bad for Taiwan's currency. It's prompted some Taiwanese firms to start unwinding carry trades that involved borrowing U.S. dollars at low interest rates locally and depositing the money at higher rates in China, according to Hsu and Woods Chen, an economist at Ta Chong Bank Ltd. in Taipei. A retreat in the yuan risks making such trades unprofitable and improved U.S. dollar liquidity has a positive knock-on effect on demand for Taiwan's currency.
"Sometimes the Taiwan dollar may rise when the yuan falls because there are carry trades being unwound," Chen said. "If China cuts its rates further, this may start to induce Taiwan companies to take their profits in China back to Taiwan. So far this hasn't happened yet, but it may no longer be worth it to borrow money for the carry trades."
Carry trades involving borrowed U.S. dollars and yuan deposits have lost 1.8 percent this quarter, after delivering a 1.8 percent return in the first half of 2015, data compiled by Bloomberg show. A weakening yuan led to a 0.7 percent loss last year, while appreciation and money-market rates that surged to a record in China helped deliver a 6.8 percent return in 2013.
From 1991 to July of 2015, Taiwanese firms invested $150 billion in China, data from the island's Investment Commission show. At one point, the carry trade across the Taiwan Strait was so lucrative that Sanford C. Bernstein & Co. analysts jokingly referred to Quanta Computer Inc.-- a supplier to Apple Inc. -- as "Bank of Quanta" for generating interest income by borrowing dollars cheaply in Taiwan and lending the money in China. In the second quarter of 2012, the firm's non-operating income was twice its operating income partly due to such profits, according to the analysts.
"That opportunity is much less interesting now," said Alberto Moel, a technology analyst at Sanford C. Bernstein in Hong Kong.
Taiwan's dollar has retreated 2.8 percent against the greenback this year, losing ground to only the pegged Hong Kong dollar and the yuan among 24 emerging-market currencies tracked by Bloomberg. It's strengthened 0.3 percent so far this month.

In addition to the current-account surplus, which was a record $22 billion in the first quarter, Taiwan's currency is underpinned by $425 billion of foreign-exchange reserves. That's the fifth-highest stockpile in the world, behind China, Japan, Saudi Arabia and Switzerland. Relatively low foreign ownership of bonds in Taiwan, where yields are the lowest in Asia excluding Japan, also adds to the resilience of the island's financial markets.
"If the U.S. raises rates, there'll be outflow pressure for all emerging
markets, but among them Taiwan will be affected less or may even benefit," Credit Suisse's Hsu said from Taipei. "The precondition for U.S. tightening is that the recovery is strong, so tech demand will be relatively good."