Labour Names Opponent of BOE Independence as Finance Spokesman
Robert Hutton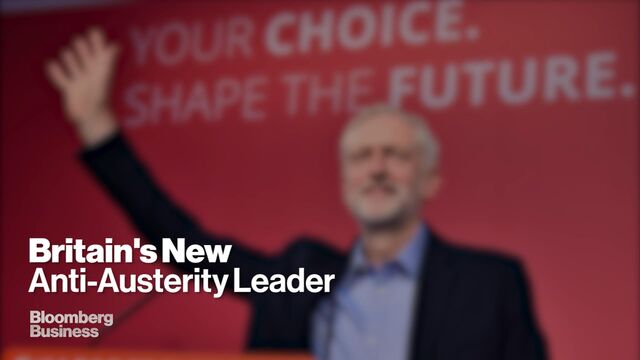 Jeremy Corbyn, the new leader of the U.K. Labour Party, named an opponent of Bank of England independence as the party's Treasury spokesman, in the latest signal of the main opposition's new political direction.
John McDonnell organized Corbyn's successful campaign for the party leadership, which saw the 66-year-old anti-austerity candidate eclipse his rivals to win the role on Saturday with 59.5 percent of the vote. McDonnell favors increasing taxation on businesses, the splitting-up of banks, and a financial-transaction tax.
While it wasn't part of Corbyn's election program, McDonnell is also a critic of the Bank of England. In 2012, he set out his own vision for Labour's first 110 days in power.
"In the first week of a Labour government, democratic control of the major economic decisions would be restored by ending the Bank of England's control over interest rates," McDonnell wrote. He went on to propose "bringing the nationalized and subsidized banks under direct control to force them to lend and invest their resources to modernize our economy and put people back to work."
McDonnell told Sky News television Monday that "my new policies and Jeremy's have been roundly endorsed by the leadership election, so what I'm going to try and do now is try and convince our colleagues in Parliament of the need for change."
'More Prosperous'
Britain's "economy would be safe in our hands but also be more prosperous," he said.
"I suspect that some of the policies will get modified as John McDonnell gets into the job and deals with the practicalities of the situation he's facing," one of Labour's major individual donors, John Mills, told Sky. "If the British economy is going to thrive and prosper there has to be good relations between the Labour Party and the business community."

It's not only McDonnell's economic policies that set a new direction. Representing a seat close to London's Heathrow Airport, he's a fierce opponent of its expansion. "I'll be arguing against a third runway at Heathrow because of the devastating environment effect," he told Sky, before excusing himself from further questioning, saying: "I've got to go and catch my bus or I'll be late."
Back in 2003, McDonnell was in the headlines over comments he made at a memorial event for a dead member of the Irish Republican Army, when he argued that there wouldn't have been a successful peace process in Northern Ireland had it not been for the nationalist paramilitary group's "bravery" and "bombs and bullets and sacrifice."
'Alternative View'
Hilary Benn, named by Corbyn as foreign-affairs spokesman, stopped short of supporting McDonnell's appointment. "This is the choice Jeremy has made," Benn told the BBC Monday. "There's clearly room for an alternative view on what should happen to the economy."
The new Labour leader was hamstrung by the refusal of many senior party figures to serve under him. Only one of his three leadership rivals, Andy Burnham, agreed to be in his shadow cabinet. He was given the home-affairs brief. Also absent from Corbyn's team will be McDonnell's predecessor as finance spokesman, Chris Leslie.
While a majority of the new shadow cabinet is female, Corbyn faced criticism for not appointing women to the most senior positions. The two female candidates in the leadership contest, Yvette Cooper and Liz Kendall, and two deputy-leadership candidates, Caroline Flint and Stella Creasy, are among the absentees. Corbyn refused to answer questions from journalists on his appointments late on Sunday.
Eagle Role
To address the concerns, two hours after naming former Treasury minister Angela Eagle as spokeswoman on business, Labour added that she would also stand in for Corbyn at the weekly Prime Minister's Questions in Parliament when David Cameron is unable to attend. Her twin sister, Maria Eagle, will be defense spokesman. While Corbyn opposes renewing Britain's Trident nuclear-weapons system, Maria Eagle has backed Trident in votes in Parliament in the past.
"We have delivered a unifying, dynamic, inclusive new shadow cabinet," Corbyn said in an e-mailed statement.
Still, other disagreements remain, with Labour also facing questions on its attitude to the European Union. The previous spokesman on business, Chuka Umunna, is determined to campaign for Britain to remain a member of the trading bloc. In a statement, he said he'd refused to serve under Corbyn after the new leader "made it clear to me that he does not wholeheartedly share this view."
Benn denied this was an issue. "We will be campaigning to remain in the EU under all circumstances," he said.
Another prominent lawmaker, Chris Bryant, said in a BBC interview that he turned down the job of defense spokesman as he disagrees with Corbyn "about quite a lot of defense issues," though he will have a role as shadow leader of the House of Commons.
"Let's be very honest," Bryant said. "It's going to be a bumpy ride."