Tsipras Says Coalition `Unnatural' as Nail-Biter Election Looms
By
Syriza leader defends record in office in two-hour TV debate

Opinion polls put Syriza and New Democracy neck and neck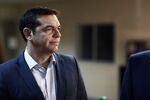 Alexis Tsipras told Greek voters that forming a grand coalition with his arch rivals would be "unnatural" and that a refusal to do so won't stoke further political turmoil in Europe's most indebted state.
With opinion polls putting his leftist Syriza party neck and neck with conservative New Democracy ahead of next week's elections, the ex-prime minister whose Aug. 20 resignation triggered the snap vote used a two-hour televised debate to defend his seven months as head of government and make a spirited case for re-election.
"There is no doubt that immediately after the elections, this country will have a government" but "it will have either a progressive or a conservative government," the 41-year-old leader said in his face-off with New Democracy leader Evangelos Meimarakis.
As prime minister, Tsipras faced an uprising within his party following a decision to strike an austerity-attached bailout agreement with euro area member-states. A Metron Analysis poll broadcast on Antenna TV before the debate showed New Democracy tied with Syriza at 24.6 percent of voting intentions.
Fragmented Parliament
With every survey published so far projecting a fragmented parliament after the elections, Greece risks being dragged into difficult coalition talks
that could delay measures required by creditors in exchange for emergency loans, including recapitalization of banks.
"The major divide between the two parties continues to be that Mr Tsipras continues to rule out a grand coalition with New Democracy," Royal Bank of Scotland analyst Michael Michaelides wrote in a note to clients, adding that a new government led by either Syriza or New Democracy and backed by two smaller centrist parties is the "most likely outcome after Sunday's election."

Tsipras said that he seeks enough votes for an outright majority, and praised Independent Greeks, the right-wing junior partner in his government. In a reversal from previous comments, though, he didn't rule out joining forces with the centrist River and Pasok parties.
"I ask for a parliamentary majority, but I will respect the result, and as soon as I get the mandate, I will seek the widest possible consensus, so that we can have a government," Tsipras said.
In the course of the debate, Tsipras's 61-year-old opponent reiterated calls for a coalition government, no matter the result of the elections, and said that all pro-European parties, including Syriza and New Democracy, should now implement the agreement that Tsipras signed. Meimarakis accused Tsipras of betraying promises to end austerity.
"In the medium term, a three-party New Democracy-led coalition is probably the most stable outcome if it leads to reforms and, potentially, debt relief," Roubini Global Economics analysts Brunello Rosa and Mert Yildiz wrote in a note to clients. "The alternatives would likely prove unstable."
Hourly Wage
Meimarakis said Tsipras's argument that he negotiated hard for 17 hours during a July 12 European Union Summit to get the best possible deal doesn't make sense.
"You are not on an hourly wage," Meimarakis said, calling Tsipras "the 60-euro prime minister," a reference to the daily limit on ATM withdrawals after the former government moved to stem a bank run by setting capital controls.
The debate "showed that Mr. Tsipras believes that he was successful in the negotiation with the EU, despite the resulting capital controls, reversal of growth to a significant recession in 2015, and severe losses of the public's money invested in Greek banks," said Nicholas Economides, a professor of economics at Stern School of Business, in New York. "Neither candidate committed on specific ways to adjust or modify the agreement and reduce its severity since it was signed at worst possible point of time for Greece."
Tsipras swept to power in January on a promise to end more painful cuts, only to sign the bailout accord after months of brinkmanship with creditors that pushed Greece to the verge of exiting the euro area. 
He deflected charges that he brought Greek lenders to the brink of collapse by arguing that the the recapitalization of banks wasn't brought on by their closure "for a few days. They existed beforehand."
"Tsipras did a relatively convincing job in defending a rather disastrous government record, mainly building on his strategy of neutralizing criticism by admitting many of his mistakes," said George Pagoulatos, a professor at the Athens University of Economics and Business. "Both looked likable and energetic -- but Tsipras looked his 20 years younger, which is always an advantage in an election."