VIX at 24 Leaves U.S. Stocks With No Road Map for Fed Tightening
By
No rate hike has started within one month of correction

VIX averaged 16.9 when last three tighten cycles began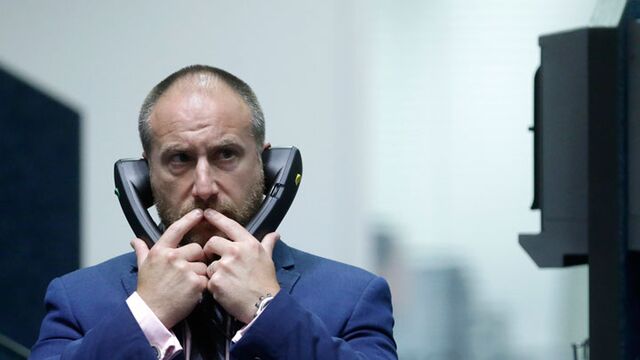 Normally, in the stock market, calm prevails before the Federal Reserve moves on interest rates. That it's nowhere to be found now is causing investors to question other assumptions about equities and the tightening cycle.
How different is the landscape now compared with past liftoffs? One example is the Chicago Board Options Exchange Volatility Index, the gauge of investor nervousness that rises as market stress spreads. Since 1990, the VIX has averaged 16.9 when U.S. policy makers started raising. Today it's above 24.

Something else to consider: at 78 months, the bull market that began in March 2009 is the third longest in history. But it's the longest ever to go without an increase by the Fed, eclipsing the nearest competitor by more than eight months.
Anomalies such as those are casting doubt on assumptions that have held up during past tightenings, among them that rate hikes are rarely disasters for equities because they come at times when market confidence is high. This time, it's different -- at least so far.
"Normally, the Fed tightens because growth is great, inflation is heating up -- that typically coincides with a strong market and little volatility," said Savita Subramanian, an equity strategist at Bank of America Corp. in New York. "This time around, we're in a different environment where it feels like the Fed is going from emerging monetary policy to normal monetary policy. It's decidedly different."
Since 1946, following the initiation of 12 tightening cycles defined by Ned Davis Research, the S&P 500 was higher a year later eight times and posted an average 12-month return of 2.5 percent. The last three led to rising markets, with stocks advancing 4.4 percent in 2004, more than 5 percent in 1999 and 1.9 percent 12 months after the 1994 increase.
But past tightenings also began when the stock market was much less turbulent. Over the month leading up to those 12 cycles since World War II, the S&P 500's average daily move, a rough measure of volatility, was less than 0.6 percent -- 15 percent lower than usual.
This time around, volatility reigns. The S&P 500 tumbled 10 percent over four days through Aug. 25, the most in four years. The Fed has never started tightening within a month of a correction. Price swings have widened to 1.4 percent a day in the past month. The VIX has spent 12 of the last 15 days above 25, a level it had occupied on only five days since the start of 2012.
Swings have been wild enough to stoke a debate on whether the markets themselves are enough to torpedo a move on Thursday -- so much so that fed fund futures started tracking equity indexes halfway through August. Odds of an increase on Sept. 17 bottomed in the last full week of August as stocks plunged then made up as much as a third of the lost ground as shares recovered.
"This is not the script they would have written," said Quincy Krosby, a market strategist for Newark, New Jersey-based Prudential Financial Inc., which oversees more than $1 trillion. "By telegraphing for so long that this was coming, in essence you created this volatility and now you can't do it because of the volatility. It does complicate things for the Fed."
In four tightenings since 1990, including the tapering of bond purchases announced in 2013, the S&P 500 had posted positive returns over the prior three and six month periods, and was within 3 percent of the gauge's 52-week high, according to Bank of America Corp. data. By comparison, the benchmark index is down 6.3 percent over the last three months and is 8.3 percent below its high of 2,130.82, reached in May.
The bull case on stocks after a rate hike turns on a belief that the Fed doesn't act unless the economy is sound enough to take it, a thesis that has been bolstered by recent data. At 5.1 percent, U.S. unemployment is the lowest in seven years, housing sales are booming and even producer prices beat economist forecasts last week.
The Fed may opt to raise rates just to preserve its credibility and as a result, stock volatility may subside -- especially if the central bank signals additional increases will be slow and gradual, according to John Carey, a Boston-based fund manager at Pioneer Investment Management Inc., which oversees about $240 billion.
"They may feel they need to go ahead and show the market they can and will raise rates," Carey said. "Settling the matter, being more decisive may relieve some of the uncertainty in the marketplace."
At the same time, a jumpy stock market can affect the economy by itself, as evidenced in last week's University of Michigan consumer sentiment index, which declined to the lowest level in a year. Some 17 percent of respondents mentioned unfavorable news about stocks, the highest share since the height of the last financial crisis in October 2008.
The Fed is slated to announce its decision on Sept. 17, at the conclusion of its two-day meeting. Economists are evenly split on whether there will be a hike, with about half the 81 surveyed by Bloomberg predicting a rate increase. Should the Fed decide to raise rates, it would be the first time since 1946 that the start of a tightening cycle occurs within one month of a correction.
Hedge funds and other large speculators bet the turbulence will last, driving the net long positions tied to VIX futures to a record 32,000 contracts in the week ended Sept. 8, according to data from the U.S. Commodity Futures Trading Commission. Before August, speculators were net short VIX futures by an average of about 45,000 contracts in the last two years.
"There are things that are not lining up to the historic pattern," said Joe Kalish, senior macro strategist at Ned Davis Research in Venice Florida. Going into past rate hikes, "we saw a moderate level of volatility and it was also against a very strong economy that the market probably felt the Fed was justified in trying to come in and cool off the economy, whereas this, there seems to be a lot of nervousness and uncertainty about the economy."