Obama Returns to Iowa to Give 2016 Candidates Push on Education
Toluse Olorunnipa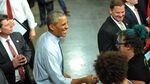 President Barack Obama returned to the state that put him on the road to the presidency on Monday to put pressure on the men and women who want to succeed him.
Ostensibly visiting Des Moines, Iowa, to pitch college affordability, Obama also used his time in the state that traditionally kicks off the presidential nomination contest to frame the campaign debate on the economy and education.
"If today's event has the effect of prompting more candidates to lay out their vision for how we can open up the access to a college education to more middle class families, then we'd be pretty happy about that," White House Press Secretary Josh Earnest told reporters traveling with Obama.
The president is seeking to inject himself into a 2016 campaign that has followed a path few would have predicted six months ago. Billionaire Donald Trump and neurosurgeon Ben Carson are leading a group of senators and governors on the Republican side. Among the Democrats, a self-declared socialist senator, Bernie Sanders, is surging against former Secretary of State Hillary Clinton, who was campaigning in the eastern part of Iowa on Monday. Vice President Joe Biden is also considering a run.
Staying Away
Asked during a town hall who among the candidates had the best plan for education, Obama took a pass on making a recommendation.
"Right now, I'm going to try and stay out of the campaign season," Obama said. "I'll wait until its winnowed down a little bit."
That didn't stop him from hitting Republicans in Congress over the federal budget, saying that if they don't get rid of the across-the-board budget limits known as sequestration, schools and colleges will suffer cuts.
He also took a veiled swipe at some of the Republican presidential contenders, such as New Jersey Governor Chris Christie and Wisconsin Governor Scott Walker, who've railed against teachers and their unions.
"I can't tell you who to vote for," Obama said. "I can tell you who to vote against and that is somebody who decides that somehow teachers don't deserve the kind of respect and decent pay that they deserve."
Before leaving Washington, Obama unveiled an initiative to allow high school seniors to apply for federal financial aid earlier in the college application process. Beginning next year, students can fill out the Free Application for Federal Student Aid, or FAFSA, starting Oct. 1, three months earlier than the current time period.
"The students and families will know sooner what their financial aid packages will look like," Education Secretary Arne Duncan said in a conference call with reporters on Monday.
The move follows the release of a college-affordability scorecard on Saturday to help students better understand the costs and potential benefits of various colleges.