In Iowa, Obama Pressures 2016 Candidates on Economic Policy
Toluse Olorunnipa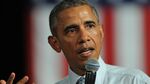 President Barack Obama returned to the state that put him on the road to the presidency on Monday to put pressure on the men and women who want to succeed him.
Ostensibly visiting Des Moines, Iowa, to pitch college affordability, Obama also will use his time in the state that traditionally kicks off the presidential nomination contest to set the terms of the campaign's economic debate.
"If today's event has the effect of prompting more candidates to lay out their vision for how we can open up the access to a college education to more middle class families, then we'd be pretty happy about that," White House Press Secretary Josh Earnest told reporters traveling with Obama.
The president is seeking to inject himself into a 2016 campaign that has followed a path few would have predicted six months ago. Billionaire Donald Trump and neurosurgeon Ben Carson are leading a group of senators and governors on the Republican side. Among the Democrats, a self-declared socialist senator, Bernie Sanders, is surging against former Secretary of State Hillary Clinton, who was campaigning in the eastern part of Iowa on Monday. Vice President Joe Biden is also considering a run.
While bombast has been drawing big crowds for candidates, Obama is forging ahead on his economic agenda.
College Aid
Before leaving Washington, Obama unveiled an initiative to allow high school seniors to apply for federal financial aid earlier in the college application process. Beginning next year, students can fill out the Free Application for Federal Student Aid, or FAFSA, starting Oct. 1, three months earlier than the current time period.
"The students and families will know sooner what their financial aid packages will look like," Education Secretary Arne Duncan said in a conference call with reporters on Monday.
The move follows the release of a new college-affordability scorecard on Saturday to help students better understand the costs and potential benefits of various colleges.
Obama planned to join Duncan for part of the secretary's back-to-school bus tour through seven states in the Midwest.
The choice to visit during the Iowa portion of the tour is a sign of how closely the president is watching 2016 campaign.
Earnest said the president may call out some of the 2016 candidates, especially governors who have reduced funding for higher education in recent years.
Wisconsin Governor Scott Walker, who Obama has singled out in the past over his economic policies, is a potential target. Walker reduced funding for his state's university system during the economic downturn.
"The goal of this trip is not to comment on one particular candidate's policy," Earnest said. "But in some cases there are candidates that have a record of not prioritizing a college education. I wouldn't put it past the president to say something about that."