Many of the Companies That Went Public in the Past Year Are Trading Below Their Offering Price
By and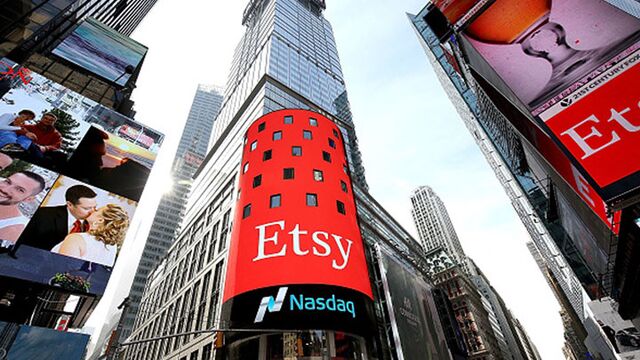 It's been a tough 12 months for initial public offerings, both in terms of volume and performance. 
Of the 35 companies that went public with a valuation larger than $1 billion and started trading in the past year, 40 percent of them have now fallen below their IPO price. Leading the declines are Fairmount Santrol Holdings Inc., On Deck Capital Inc. and TerraForm Global Inc.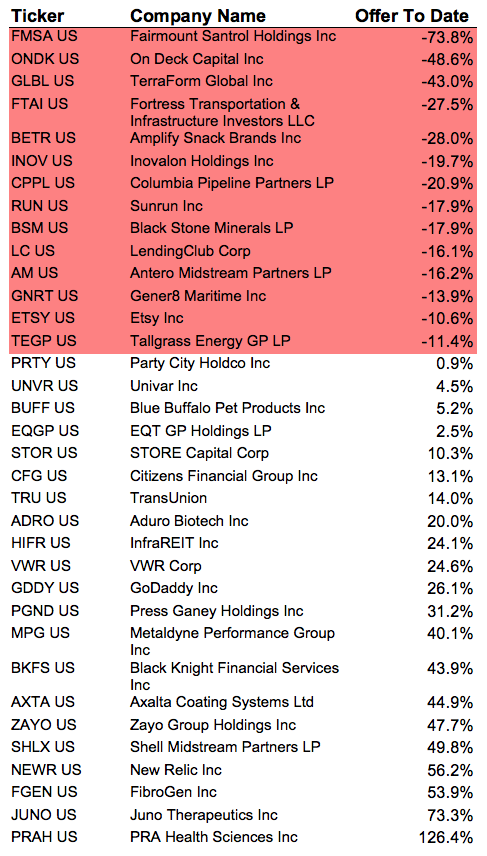 Looking at the Bloomberg IPO Index, which tracks companies for a year after they go public, things have taken a dramatic turn since market volatility picked up late last month. The index is now down 20 percent since the start of the year.

With a slower year for IPOs, investors had initially been excited about getting a piece of companies like Etsy Inc., which surged 87.5 percent on its first day of trading, and LendingClub Corp., which climbed 56.2 percent at its debut. Now, both stocks have slid more than 11 percent below their offering prices.

Right now, there's no consensus on Wall Street as to when the U.S. Federal Reserve will decide to raise interest rates from zero, where they've been for the past seven years. That's left equity investors with a feeling of uncertainty -- something that companies thinking about an IPO in the last months of 2015 will be considering. 
Still, there are some notable companies that could go public before the end of the year.  
Digicel Group Ltd., the mobile-services company owned by Irish billionaire Denis O'Brien, is planning to raise $1.5 billion to $2 billion in an initial public offering as soon as this month, people with knowledge of the matter said Friday. But those plans may change depending on the Fed's decision, they said.
Meanwhile, First Data Corp., the payments company with investors led by KKR & Co., plans to seek at least $2.5 billion in what would be the biggest U.S. initial public offering of 2015, according to people with knowledge of the matter. Again, the price and timing are subject to change depending on stock-market volatility and how investors react to a pending roadshow, the people said. Thing have been bleak for companies deciding to go public in the past year. 
At the start of 2015, many investors thought it could be another record year with potential offerings from popular startups like Uber and Airbnb. One notable tech startups that is still expected to go public is Square, so it will be interesting to see if it does indeed follow through on those plans and whether or not it fairs better than some of the others we've seen.