Everything We Know About the Hillary Clinton E-Mails (and a Few Things We Don't)
It's a sprawling and fast-changing story involving several prominent figures and at least one international organization.
By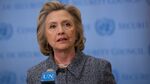 Shortly before Hillary Clinton took office as secretary of state in January 2009, she and her team decided to set up a server in her home in Chappaqua, New York, to power a private e-mail address she would use to conduct government business for the duration of her tenure.
First reported in March, the revelation of her practices has dogged her campaign for the Democratic presidential nomination and prompted investigations by the FBI and in both houses of Congress. It's a complicated story involving several prominent figures and at least one international organization. To keep track of all the threads, here is a round-up of what we know—and a few things we don't.
Did classified information appear on the server?
Two government inspectors general, one from the State Department and one from the intelligence community, say it did have classified State Department information. Media reports also say that classified material from other government agencies, as well as from foreign governments, has been identified in those e-mails, including information gleaned from satellite images and talk of foreign troop movements. According to reports, there are at least two instances of "top secret" information included in the e-mails, with one citing "a special review" by the Central Intelligence Agency and National Geospatial–Intelligence Agency. Some of that information is "born classified," meaning it would automatically need special handling regardless of markings, J. William Leonard, a former director of the U.S. government's Information Security Oversight Office, told Reuters. The State Department also marked information that was redacted in several e-mails as "B1," which means it is ultimately classified to protect national security.
The State Department insists that, because of frequent disagreements between agencies as to the status of information, it "would be premature" to conclude that information that needed to be treated as classified passed through the server.
Clinton aides and surrogates have argued that classification schemes are inconsistent between and within agencies and are overly broad. They say that following classification markings is the important thing.

Was any information marked as classified at the time Clinton sent or received it?
Clinton and her lawyers say none was, and so far, no e-mails that have been released bear such markings.
Does that mean she and the aides aren't responsible for possible classified content?
It depends. As Michael Mukasey, a U.S. attorney general under President George W. Bush, noted in a Wall Street Journal op-ed in August, laws prohibit people from knowingly keeping "classified information ... at an unauthorized location." Doing so unknowingly could be a different story—if indeed that what the aides with whom Clinton communicated did. On the other hand, employees with the kinds of clearances that the aides who sent or received the messages in question are also expected to spot likely classified information and to be on guard against paraphrasing it in a non-classified communicaation.
Was the server ever hacked?
We don't know. Private servers are considered more difficult to protect, in general, than the ones big e-mail hosts like Google use.
Is Clinton under criminal investigation?
No. The FBI is investigating whether sensitive information was mishandled in connection with the e-mails. The Department of Justice has said the investigation is not criminal and Clinton is not a specific target. 
Are there congressional investigations into the server?
The House committee investigating the Sept. 11, 2012, terrorist attack against a U.S. diplomatic compound in Benghazi, Libya, is also investigating Clinton's e-mail practices. The attack killed four Americans, including Ambassador J. Christopher Stevens.
Clinton, who headed U.S. diplomacy at the time, is scheduled to testify before the committee on Oct. 22. One of her chief aides, Huma Abedin, will testify at a yet-to-be-determined date before then. Two other aides, Cheryl Mills and Jake Sullivan, gave closed-door testimony to the committee on Sept. 3 and 4, although it's unclear if they spoke about the e-mails. In addition, the staffer who set up the server, Bryan Pagliano, invoked his Fifth Amendment right to silence during brief questioning before the committee on Sept. 10.
Senate Judiciary Committee Chairman Chuck Grassley, a Iowa Republican, sent letters to Clinton's lawyer, the State Department, and the FBI inquiring about the handling of potentially classified material.  Senate Homeland Security and Government Affairs Committee Chairman Ron Johnson, a Wisconsin Republican, has also sent questions to her lawyer.

Was Clinton allowed to use private e-mail?
Technically, yes. But the practice was greatly discouraged. A June 2011 department cable sent in Clinton's name told employees, "Avoid conducting Department business from your personal e-mail accounts." Regulations that allowed for private e-mail use also required her to make any private records concerning government business available for preservation. Many of her e-mails were captured automatically when she sent messages to people at their State Department addresses, but e-mails she sent to other private e-mail users, in and out of the department, were only shared in 2014 when the department asked Clinton for them. In August, a federal judge overseeing a Freedom of Information Act case related to the e-mails reprimanded Clinton without mentioning her by name, saying that the court case would not have been necessary if "the employee had followed government policy."
Was Clinton allowed to delete e-mails?
Yes. The Justice Department said in a court filing last week that she "had authority to delete personal e-mails without agency supervision."
Did Clinton swear when she left office in 2013 that she had turned over all records?
Some observers asked after the revelation of the server's existence if Clinton had signed the department's standard "separation statement," in which she would have had to swear she had complied with records laws. The State Department says she didn't sign.
Did other secretaries of state use private e-mail?
At least one, Colin Powell. No secretary of state, however, is known to have used a private and personally controlled e-mail server.
Has Clinton released all the e-mails?
She and her lawyers say they went through the server and gave to the State Department all e-mails remotely related to department business, totaling approximately 30,000 messages, or more than 55,000 pages. The department is examining these and releasing them in batches every month, in response to a court order stemming from a Freedom of Information Act lawsuit. Clinton says she was so thorough that the department sent back more than 1,200 messages found to be purely personal. But she has also said she deleted another 32,000 messages that she deemed personal before turning her e-mail over to the State Department.
Where is Clinton's server now?
It is in the possession of the FBI, as is a USB drive with copies of the business e-mails that Clinton's lawyers kept in a safe. The FBI recovered the server from a New Jersey site where Clinton moved it after she left office. Media reports also mentioned Denver-based IT company, Platte River Networks, that managed her server, but it appears to have done so remotely.
Was it ever stored in a bathroom?
Probably not. Reports in the Daily Mail said that Platte River Networks was run for a time out of a residential loft and the company's servers were housed in a bathroom closet. The company disputes that, though, and does not appear to have physically possessed Clinton's server anyway.
Is there anything on the server?
Clinton has said her e-mails from the time of her service—meaning both personal and private e-mails—were deleted. Platte River Networks gave indication, however, that Clinton did not "wipe" the server, meaning the information was deleted but not overwritten. The latter move would make the e-mails harder to recover. The FBI is investigating the possibility that they can be recovered.
Update, Sept. 23: Our colleague Del Quentin Wilber reports that the FBI has recovered personal and work-related e-mails from the server, according to a person familiar with the investigation. The agency's "success at salvaging personal e-mails that Clinton said had been deleted raises the possibility" that her messages "eventually could become public."
How did Clinton use e-mail?
She tended to communicate with a handful of aides—some of whom now work for the campaign—and talked with other people through those aides. Many of the e-mails that have been released contain schedules, press clippings, staffing updates, speech notes, and requests to aides for tech support. Some e-mails contain requests to speak with people over secure phone lines. She has said the deleted personal e-mails contained information on yoga routines and plans for vacations, her mother's funeral, and her daughter's wedding, among other topics.
Who is Sidney Blumenthal?
Clinton e-mailed with a few friends, including Blumenthal, a onetime aide in Bill Clinton's White House. He sent lengthy foreign-affairs briefings with speculative information. He often marked them as "confidential" even though he was a private citizen who portrayed the information as coming from private contacts.

What do the e-mails tell us about the Benghazi attack?
Of the 296 e-mails that Clinton's aides submitted to the House committee investigating the attack and that the State Department subsequently released, few actually come from the day of Sept. 11, 2012. Committee Democrats said the documents added little to earlier conclusions that the State Department could have been more proactive about security concerns but did all it could on the night of the attack. Republicans largely avoided commenting on whether the e-mails contained big revelations.
Do the e-mails show Clinton knew the attack was terrorism?
They do show that Blumenthal, in one of his memos, quickly told her that a contact said the attack was terrorism. The e-mails do not show, though, whether she considered the tip reliable. They suggest she did not help formulate erroneous statements by White House National Security Adviser Susan Rice on Sept. 16 that the attack was actually a protest against an anti-Islamic video gone awry, which the White House later backtracked on.
Do the e-mails reveal information on donations to the Clinton Foundation?
Those that have been released do not.
Who is Huma Abedin?
A longtime Clinton aide sometimes described as her surrogate daughter, Abedin currently serves as vice chair of Clinton's campaign. She is a frequent target of conservatives' efforts to discredit Clinton, with accusations ranging from her receiving too much pay for a vacation to having ties to the Muslim Brotherhood. (The former is under investigation, with Abedin claiming she worked while she was supposed to be off; House Speaker John Boehner and Senator John McCain slammed the latter as unfounded and, as Boehner put it, "pretty dangerous.") She also had an account on the private server. She is married to former New York Representative Anthony Weiner.

What do Abedin's e-mails show?
Her messages, some of which have come out in separate Freedom of Information actions, did show she sometimes corresponded with Clinton Foundation officials on her State Department account. While she was at the department, Abedin was granted permission to do work with the foundation and a company called Teneo Holdings. The consultancy was founded by a Bill Clinton adviser, Doug Band, and a former diplomat in Hillary Clinton's State Department, Declan Kelly. Senate Judiciary Committee Chairman Chuck Grassley, an Iowa Republican, has asked if the firm's high-profile international clients and Abedin's simultaneous work meant she had a conflict of interest. (Her lawyers say she did not.)
Who is Bryan Pagliano?
A staffer on Clinton's 2008 presidential campaign who later joined the State Department, Pagliano set up the private server. The Clintons paid him personally for the work and later upkeep. The Clinton campaign says this means that the public didn't fund the private arrangement. When questioned by the Benghazi committee on Sept. 10, Pagliano invoked his Fifth Amendment right to remain silent, and his lawyer has said he will invoke it again if compelled to testify elsewhere. Lawmakers are considering granting him immunity to get his testimony, according to Grassley.
How is Clinton handling the controversy?
For months, she characterized it as a partisan attack and occasionally joked about it, telling an Iowa audience in August that she liked Snapchat because "those messages disappear all by themselves." In recent days, though, her strategies toward addressing the e-mails and her campaign in general have shifted, and she has expressed contrition for the actions, saying she was "sorry" and that it "clearly wasn't the best choice."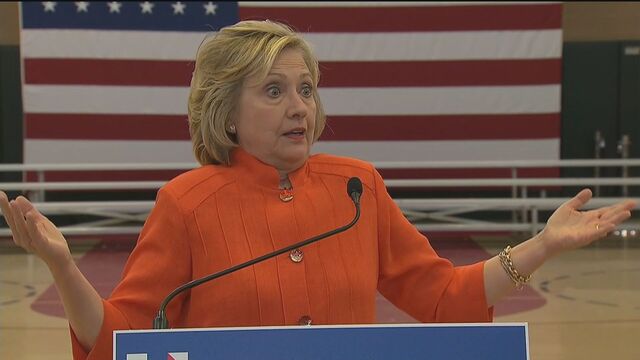 Is Clinton right that voters don't care about the e-mails?
Prominent Democrats have criticized her handling of the issue, and her poll numbers have suffered, including her ratings on favorability. Her lead in Iowa over Vermont Senator Bernie Sanders, a rival for the Democratic nomination, had also narrowed to within the margin of error in a recent Bloomberg Politics/Des Moines Register Iowa poll, although 61 percent of likely Democratic caucus-goers in Iowa said they didn't care about the e-mail controversy.
Did she ever e-mail with Bill Clinton?
Seemingly not. His spokesman contends he has only sent two e-mails in his whole life, both when he was in office. One went to troops serving overseas; the other went to astronaut John Glenn when he was in space at age 77.
What were Clinton's e-mail addresses?
hrc22@clintonemail.com and hrod17@clintonemail.com
Will there be more revelations?
Likely yes. Approximately a quarter of the e-mails have come out since a federal judge ordered monthly releases that started June 30. Those must be wrapped up by January. The investigations and lawsuits are also ongoing.
Where can I read Clinton's publicly released e-mails?
When the State Department released the 296 Benghazi-related e-mails in May, it added a special page to its website, and it has put new e-mails there as it makes them public. Anyone can read the e-mails for themselves there.