Bernie Sanders and Liberty University Agree to Disagree
At an evangelical school in Virginia, the candidate meets a different kind of young crowd.
By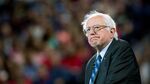 Democratic presidential candidate Bernie Sanders took a variation of his stump speech to a new audience on Monday: The evangelical Christian school Liberty University in Lynchburg, Virginia.
"It is easy to go out and talk to people who agree with us," Sanders said after being introduced by the school's president, Jerry Falwell, Jr. "But it is harder, but not less important, for us to try to communicate with those who do not agree with us on every issue. And it is important to see where, if possible—and I do believe it is possible—we can find common ground."
Also on Bloomberg Politics: Why Bernie Sanders Is Spending Rosh Hashanah at Jerry Falwell's Liberty University
Guest speakers at Liberty's convocation, a gathering held several times a month, aren't usually self-described democratic socialists who support abortion rights and gay marriage, but the convocation is billed as a platform for ideas. Before Sanders went on, David Nasser, the school's senior vice president for spiritual development, led a prayer asking God to teach the audience and "use our guest today to let us know not just what to think but how to think." 
Ahead of the convocation, several Liberty students seemed as interested in hearing what the Vermont senator had to say as he was keen to tell them. "I'm all for him coming. I think it's great to hear different people come and speak and hear different people's views," Samantha Vasquez, a sophomore, said. "We're more than happy to have him here." 

Sanders told the crowd (which numbered nearly 12,000, according to Liberty spokeswoman Mitzi Bible) that he's motivated by a vision that exists in all religions "which is so beautifully and clearly stated in Matthew 7:12. 'So in everything, do to others what you would have them to do to you, for this sums up the Law and the prophets,'" he said. "Do to others what you would have them do to you. The golden rule and not very complicated."
He tied Biblical themes of justice, like that in Amos 5:24 ("But let justice roll on like a river, righteousness like a never-failing stream!"), to his platform against income inequality. 
"Put this in the context of the Bible," Sanders said. We live in a time when some have "wealth beyond comprehension" while millions of Americans live in poverty, he said. "When we talk about morality, and when we talk about justice, we have to, in my view, understand that there is no justice when so few have too much and so many have so little." 
Throughout his speech, Sanders was met with loud applause from a pocket of supporters seated near the stage, many unaffiliated with the university. The reaction from the students was generally less enthusiastic, but still positive. His biggest applause lines came when he quoted the Bible and praised the school for being a proudly religious institution.

After the speech, Sanders answered a few questions from students about race, student debt, and ending poverty. Nasser, who moderated the question-and-answer session, closed by asking Sanders, "How can we pray for you?" 
"This is what I would like prayers to be for, not just for me, but far more significantly are prayers for our country," Sanders said. "Prayers for how we bring our people together. Prayers for how we can create, in the wealthiest country in the history of the world, a beautiful country, a country where all people have health care, where all kids of ability can go to college, where we have wiped out childhood poverty—those are the prayers that I want to join, with you, in making."
Not surprisingly, judging by their applause, most of the student audience didn't agree with Sanders. The biggest applause line didn't come from the candidate but from Nasser, who asked Sanders about protecting "children in the womb." Several students said they were leaning toward supporting Republican Ben Carson, Sanders's political polar opposite, for president.
Still, the students lived up to the idea that the convocation should serve as a platform for ideas, and that even the ones they don't like should be heard. There were moments when the audience murmured in obvious disagreement—including when Sanders praised President Barack Obama—but there wasn't the kind of loud booing that such a clash of ideology might be expected to inspire.
"I don't know if I would call it brave, but I think it's very considerate of him to come and speak to us, knowing our views and how we think and all that," said Clay Teergarden, a sophomore, adding that he "was surprised to hear how socialist he was, to be honest."

Some people in the audience knew exactly what to expect from Sanders. About 30 people, a mix of visitors and students, waited near the stage hoping to meet Sanders, including graduate students Lindi Riggs, a self-described moderate, and Bradley Click, who said he was liberal. Both said they are leaning toward Sanders.
Riggs said that supporting a candidate like Sanders "goes along with what are still Christian principles, things like supporting and trying to help the oppressed and people with children and people in poverty."
Click said Sanders did a good job of using Bible verses to outline his message. "Those are scriptures I would use to resonate with the people I interact in class with every day and try to just meet a common ground," he said.