Airbus Guns for Boeing With New Factory in Its Home Market
By , , and
European planemaker plants flag in Boeing backyard in Alabama

Proximity to biggest airlines and low labor costs lured Airbus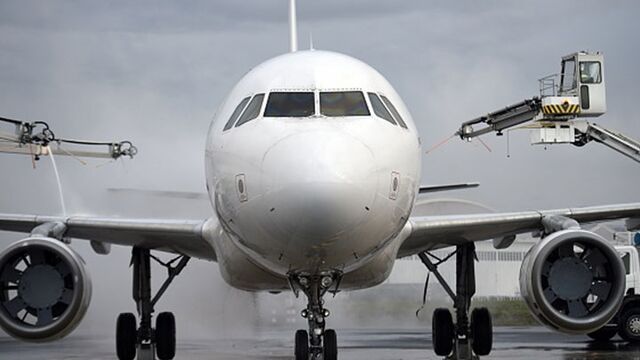 Airbus Chief Executive Officer Fabrice Bregier is laying plans to draw level with Boeing Co. in the U.S., its rival's home turf and the world's largest aerospace market, starting with a new factory in Alabama.
It's an aggressive move, considering that the European planemaker only controls about 20 percent of the U.S. market. That share will reach 40 percent once carriers including American Airlines take delivery of the company's planes on order. Bregier's team has set its sights on grabbing half of a U.S. market that has traditionally favored the home player, even as the two manufacturers share the global market 50/50.
Airbus will raise its profile with a $600 million plant for single-aisle airplanes that it unveiled Monday in the city of Mobile. The facility is only the second such plant it has built outside of Europe. The other is in China.
"Our first U.S. facility has been years in the making," Bregier, head of Airbus Group NV's airliner unit, told reporters on Sunday. "It is the most significant, game-changing incident in U.S. aerospace in decades."
Airbus Group already builds helicopters in the U.S. and is scouting sites for a satellite plant on American soil. The company expects to be more visible in bidding for future defense contracts, and can envision using an expanded Mobile site for military work too, said Airbus Group Chief Executive Officer Tom Enders, who led an earlier attempt to beat Boeing for a contract to sell refueling tankers to the U.S. Air Force. The company holds an option to double the 116-acre (470,000-square-meter) site to accommodate future work.
"We are a large aerospace company, and should the situation arise where we have something competitive to offer the U.S. Air Force, for instance, this would certainly be a site where we'd consider doing something" Enders said in a televised interview.
First Jetliners
The first two aircraft already taking shape in the facility are A321 jetliners, the largest single-aisle models that Airbus is counting on to wrest market share from Chicago-based Boeing. The planes seating upwards of 200 passengers are becoming a mainstay of transcontinental flying by American, Delta, JetBlue and other airlines.
Asked if he were plotting a new mid-sized aircraft to counter the 757 replacement on Boeing's drawing boards, Bregier nodded to the A321. "The aircraft exists already," he said. "You don't need to reinvent it."
Most of the jets built in Mobile will be delivered to North American customers, Airbus said. Deliveries are due to start early next year out of the 53-acre (215,000-square meter) facility, with the production tempo increasing to four aircraft a month by early 2018. Airbus also produces four A320s a month in Tianjin, China, which is poised to eclipse North America as the largest aviation market.
Location, Location
"It's all about location," said Michel Merluzeau, vice president for aerospace strategy and business development with consultant Frost & Sullivan. "It's about where you do business, and how that property is going to grow over time."
The first two jets, bound for JetBlue and American, are taking shape at the new plant, whose 260-employee workforce will swell over time to 1,000. The plant and planes will be certified by European regulators rather than the U.S. Federal Aviation Administration.
"We're producing on American ground a European product with American people," said Timo Zaremba, who oversees product quality at the Mobile plant.
Jet production costs and factory capacity are vital as Boeing and Airbus plot to boost output of single-aisle jets that serve as workhorses for the global airline fleet to upwards of 60 aircraft a month. Airbus currently builds the A320 at the same 42-jet pace as Boeing makes its 737.
Large Backlog
The planemakers are racing to reap profits from a near-record backlog of narrowbody jet orders: 5,181 for Airbus to 4,253 for Boeing, according to data compiled by Bloomberg Intelligence.
Boeing assembles its 737 jets at a single factory in Renton, Washington, although the company is considering adding a plant in China where planes would be finished and delivered.
Airbus spreads the single-aisle work across three factories now -- in Toulouse, Hamburg, and Tianjin, China. A fourth plant in Alabama will give Airbus greater flexibility to ratchet output up, or down, while saving on land, energy and labor, said Kevin Michaels, vice president with the aerospace practice of consultant ICF International. Final assembly line labor costs represent about 10 percent of the total expense of building a jetliner, he estimates.
Suppliers are also expected to help Airbus build up in the U.S. by moving capacity there. Safran SA, which builds engines for single-aisle planes together with General Electric Co., said its Aircelle unit plans to build a U.S. factory now for engine nacelles, and the group will set up a new service center for landing gear, brakes and wheels closer to the Mobile facility.
Possible Increase
If Airbus decides to hoist A320 production past 60 jets a month, it will add further capacity in Hamburg and consider doubling output in Mobile, provided the first three years goes smoothly, Bregier said. The planemaker will likely make a decision before the end of this year on whether to increase monthly rates to beyond the 50 planes projected by 2017, he sad.
Over the next two decades, the aerospace company expects North American airlines to buy 4,800 single-aisle aircraft.
"We expect to get about half that total, if not more," said Allan McArtor, chairman and CEO of Airbus Group Inc., the North American subsidiary of the group.