Kasich Says He Backs Obama on Bringing Syrian Refugees to U.S.
Ian Katz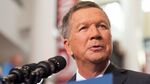 Republican presidential candidate John Kasich said he supports President Barack Obama's plan to admit at least 10,000 Syrian refugees to the U.S. over the next year.
"I support that," Kasich, governor of Ohio, said on Fox News Sunday, adding "It's very important that we don't let anybody infiltrate who's part of a radical group. But America needs to be part of this solution."
The U.S. also could provide logistical support and humanitarian aid, Kasich said.
The prospect of increasing refugee inflows has been a delicate issue for U.S. politicians. Donald Trump, the current Republican frontrunner, has said he reluctantly agrees that the U.S. needs to try to help. "I hate the concept of it, but on a humanitarian basis, you have to," Trump said in a Sept. 1 interview with Fox News' Bill O'Reilly.
Kasich on Sunday also expressed opposition to a government shutdown that may be looming. Current government funding expires at the end of September and Congress hasn't yet enacted any of the 12 annual spending bills for the fiscal year starting Oct. 1.
Potential defunding of Planned Parenthood, the women's reproductive health service, has emerged as a key demand by some conservative lawmakers in exchange for agreeing to not close the government down.
"Planned Parenthood ought to be defunded," Kasich said. However, if the government is shut down, "you're never going to get anything signed by the president because he's in total opposition. So you'd shut the government down, and then over time you'd have to open it back up again and you wouldn't have achieved much."
A Sept. 6 NBC News/Marist poll showed Kasich, with 12 percent, running in second place in New Hampshire behind Trump, who had 28 percent. New Hampshire will hold the first presidential primary election of 2016.