Defiant Christie Deflects Criticism Over Bridge Traffic Scandal
By
Christie: Port Authority probe no stain on his administration

Christie says `nothing has been proven yet' of allegations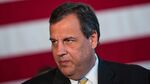 New Jersey Governor Chris Christie, trailing among Republican candidates for president, defiantly rejected a suggestion that the scandal involving the Port Authority of New York had harmed his record, and said that his handling of the crisis showcased his skills as a decisive leader.
In an interview on NBC's "Meet the Press" on Sunday in which he was asked if the Port Authority was a "stain" on his administration, Christie didn't back down. The 53-year-old Republican instead sought to convince Americans that he was a worthy candidate for his party's nomination to be the next U.S. president.
"No. It is not. Nothing has been proven yet. So let's see what happens," Christie said. "Here's the bottom line, when you have all these folks working for you, David included, you hold them to high standards. And if they don't meet those high standards, what a decisive leader does is you take action and you terminate them."
David Samson, 76, whom Christie appointed to the Port Authority of New York and New Jersey, resigned in March 2014 amid state and federal investigations of closures of traffic lanes on the George Washington Bridge that jammed traffic in Fort Lee, New Jersey, whose mayor didn't endorse Christie's re-election.
Jeff Smisek, chief executive officer of United Continental Holdings Inc., became the latest casualty of the scandal when he was ousted on Sept. 8 after an internal United probe of possible political favors at the Port Authority, which controls the New York area's major airports.
U.S. prosecutors are reviewing whether Samson got the carrier to schedule what became known as "the chairman's flight," a money-losing route to South Carolina where Samson's wife had a home. United at the time was seeking millions of dollars in investments from the authority.
"What people want from their leaders is honesty and candor, not perfection," Christie said. "I can't ensure perfection from everybody, but I will hold everybody to those high standards today and when I'm president of the United States."
The RealClearPolitics average of national polls conducted since Aug. 13 has Christie trailing nine other Republicans for the party's nomination, with just 2.8 percent support. In New Jersey, he registered just 30 percent approval in the most-recent PublicMind poll by Fairleigh Dickinson University, less than half of where his ratings stood in the aftermath of Hurricane Sandy in early 2013.