Pro-Perry Super-PAC Mulls How to Spend Leftover Millions
The former Texas governor's supporters say they've got more than $12 million left.
By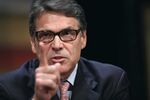 The Opportunity and Freedom PACs, a conglomerate of three super-PACs backing Rick Perry's bid for the Republican nomination, now must decide what to do with its leftover millions.
In a phone interview Friday, hours after Perry announced his exit from the presidential race, Austin Barbour, a spokesman for the group, told Bloomberg the super-PACs have about $12 million to $13 million remaining.
According to data from Kantar/CMAG, the three Opportunity and Freedom PACs bought more than 3,000 spots on behalf of Perry in Iowa, the state where the first votes of the presidential election will be cast in Feb. 1 caucuses. Barbour said he was surprised at Perry's decision. The super-PAC had been prepared to continue supporting him for a long time, he added.
"We felt like we were turning a corner in Iowa," he said. "We were ready to keep the fight up."
The super-PACs, which reportedly raised a combined $17 million (not all of which has yet been reported to the Federal Election Commission because one of the groups was created after the June 30 filing deadline), don't have a plan yet for what to do with the money. Much of it came from two Texans, who gave a combined $11 million. Barbour said there will be a call tomorrow to discuss options with the PACs' lawyer,  Stefan Passantino.
"If the law says we can refund the money and that's what our donors want to do, that's what we'll do," Barbour said.