Verizon Seeks Money in Mobile TV Where Rivals Faltered
By and
Ad-supported TV and Web programs streamed to millennials

Company says timing right to reverse mobile TV's failure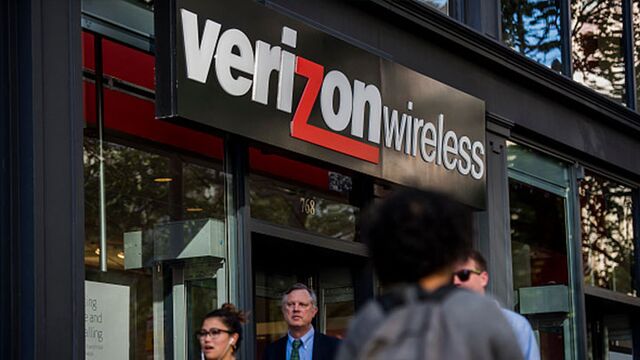 Verizon Communications Inc. is embarking on a plan to make money from delivering TV over mobile phones. Past efforts by rivals show the chances of success are slim.
So far, no one has been able to convince large numbers of consumers to pay for a mobile-centric video service. Software maker MobiTV Inc. pulled its IPO in 2012, citing "unfavorable market conditions." Qualcomm Inc.'s Flo TV failed to attract subscribers and was shuttered in 2011. Dish Network Corp.'s Sling TV, which debuted in February to a surge in demand, saw growth drop by half last quarter. And both AT&T Inc. and Apple Inc. have postponed their streaming-TV services until next year.
Unlike those efforts, Verizon is giving away its service, starting this week, to teens and millennials, and will try to recoup some of the cost by selling ads. The company faces long odds: It must compete against the more-established, mobile-friendly streaming services of Netflix Inc., Hulu, HBO, Amazon.com Inc. and Comcast Corp., without those companies' robust libraries of video content. It also won't offer many live streams of sports and network programming, like the Oscars, and can't provide users the ability to watch shows on their big-screen TVs at home.
Yet for Verizon, the goal is to attract an audience of teenagers to 30-year-olds, some of whom have never paid for cable or satellite TV. The company has amassed a roster of "best of" programs from broadcast networks, the Web, sports and live events to stream and will encourage users to share videos on Facebook Inc. and Twitter Inc. The company will make the go90 service -- named for the act of rotating a mobile device's screen 90-degrees sideways for video viewing -- available to the public Sept. 28.
Youth Appeal
"Timing is everything," said Brian Angiolet, senior vice president of product development for Verizon. "If you look at TV metrics, pay TV is in decline and that's because the younger audience is finding different programming elsewhere. Now, with go90, users have curated shows that they can make into a common experience."
The service is a pared-down version of what the No. 1 wireless carrier envisioned earlier this year. Back in March, Verizon was considering a subscription-based mobile-TV service with programming from the four major broadcast TV networks -- ABC, CBS, Fox and NBC -- including live feeds and on-demand offerings.
Go90 will now offer TV shows from networks including ESPN, Comedy Central and MTV, in addition to short Web videos from AwesomenessTV, Vice and others.
Subscriber 'Gateway'
The company is trying to build an audience through a free service that can be "a gateway to a subscription business," said Angiolet.
"If the audience is highly engaged with your product, then we feel the ad model will support the service," he said.
As for data usage, the company still plans to charge for go90 viewing, but will offer 2 free gigabytes of data for three months to anyone who signs up, according to Alberto Canal, a Verizon spokesman.
Go90 isn't exactly free, said Chetan Sharma, an independent wireless analyst. "Will consumers trade free content for higher access fees? Depends on the exclusivity of the content," Sharma said.
'Right Time'
Mobile video is also still unproven as a means of acquiring and retaining customers, said Peter Csathy, CEO of Manatt Digital Media. But Verizon is introducing go90 at the "right time," he said.
"Video is fundamentally important; it's what draws people, especially young kids, to mobile devices," Csathy said.
Mobile ad spending will increase by an average of 38 percent each year from 2014 to 2017, according to ZenithOptimedia, a London-based media research group.
This is one reason why Verizon bought AOL Inc. The company wants to use AOL's programmatic advertising technology to insert ads in its go90 streaming service. Mobile phones offer a window into users' interests: information about their age, location, favorite sports teams, foods and travel patterns can be collected and marketed. That info can give Verizon the ability to target more relevant ads to users where they happen to be.
Mobile Future
With mobile video, Verizon is trying to look beyond the maturing U.S. wireless business. The company is facing tough price competition from rivals like Sprint Corp. and T-Mobile US Inc. as well as shrinking revenues in its landline business.
Rival AT&T, facing the same market conditions, acquired DirecTV last month to become the largest U.S. pay-TV provider. AT&T also bought wireless carriers in Mexico and forged partnerships with automakers to connect cars to the Internet. Seventy percent of Verizon's revenue last year came from its wireless unit, versus 56 percent for AT&T. Thus, Verizon's concentration on mobile means it has much more to lose than AT&T if go90 sputters.
"It fits with Verizon's overall strategy of hedging against a future in which pay TV becomes less important, but that still doesn't mean it's going to work," said Jan Dawson, an analyst with Jackdaw Research LLC in Provo, Utah.
Other than being a broadband provider, Verizon doesn't have an edge that helps it succeed in mobile video, Dawson said.
"The carriers have always wanted to be content providers, but they are passing through other people's content one way and most of the money the other way," Dawson said. "They've never been successful and aren't likely to be."
Related News and Information:
Top Stories:TOP