Rick Perry Drops Out of Presidential Race
The former Texas governor takes a parting shot at Donald Trump.
By and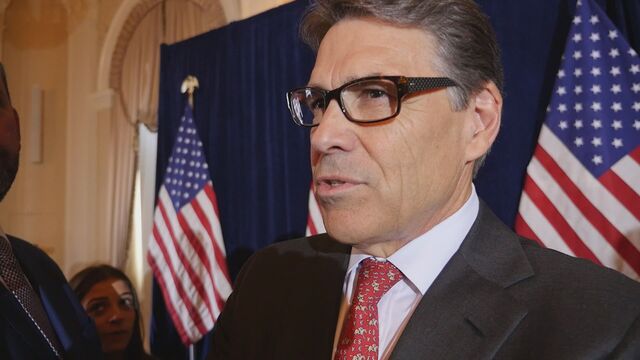 Two-time presidential candidate Rick Perry became the first to drop out of the unprecedentedly crowded 2016 Republican field on Friday, the latest sign of how devalued political experience has become in a race where anti-establishment candidates have surged ahead.
The former Texas governor, a once-formidable fundraiser who had the most executive experience in the field, pulled the plug on his latest White House bid a little more than three months after entering the race, taking a few parting shots at front-runner Donald Trump as he made his exit.
"We have a tremendous field of candidates," Perry said at the Eagle Forum in St. Louis, Missouri. "I step aside knowing our party is in good hands."
Calling on his party to remain positive during a time of cynical politics, Perry said Republicans will find success if they listen to the "grassroots" and their conservative ideals.
Perry, who briefly rocketed to the top of the Republican presidential field in 2012 only to be upended by an embarrassing debate performance, had hoped to turn things around in his second bid. But he struggled to gain traction in the polls and was suffering from substantial financial woes. Over the summer, he stopped paying some of his staff and had less than $1 million in his campaign treasury as of June 30, far less than some of his competitors.
With his own campaign funds dwindling, Perry continued to have deep-pocketed believers: A trio of super-PACs backing him had banked a reported $17 million. Of that, $10 million came from two Texas businessmen, Federal Election Commission records show. "We are obviously disappointed," said Austin Barbour, a spokesman for the fundraising conglomerate, in a statement Friday. He told Bloomberg that the super-PACs, which advertised heavily on Perry's behalf in Iowa, still haven't decided what to do with their remaining money. Perry's exit from the race is likely to set off a scramble for his top donors.
A Quinnipiac University poll released Friday showed Perry with support from just 1 percent of those likely to attend the Feb. 1 Republican caucuses in Iowa, the first nominating contest. As recently as last month, during a visit to the Iowa State Fair, Perry insisted he wasn't discouraged and resolved to persevere. "This is a really long process," he said.
The first of the Republican presidential candidates to directly attack Donald Trump, Perry was in many respects a victim of the real estate mogul's popularity. In many cases, Trump latched onto some of Perry's favorite issues and made them his own with considerably more rhetorical flair. Where Perry called for reining in Washington, Trump called the nation's leaders "stupid." Where Perry called for gaining control of the nation's borders, Trump called for building a wall.
Perry, who called Trump "a cancer" on the Republican Party earlier this summer, didn't mention him by name as he exited the race, but the references were unmistakable.
"We cannot indulge nativist appeals that divide the nation further," Perry told his audience in St. Louis. "The answer to our current divider-in-chief is not to elect a Republican divider-in-chief."
Perry added that the Republican nominee "must make the case for the cause of conservatism more than the cause of their own celebrity."
After furiously belittling Perry (including suggesting that he be made to take an IQ test) and predicting the end of his campaign for weeks, Trump made a peace offering via Twitter minutes after Perry finished speaking, a potential appeal to the former governor's supporters.
Perry had sought his political redemption in Iowa. With the exception of former Senator Rick Santorum of Pennsylvania and Louisiana Governor Bobby Jindal, Perry had spent more time in Iowa than any of the other Republican candidates, according to the Des Moines Register's candidate tracker.
His chances in the last presidential election were dashed during a November 2011 debate in suburban Detroit, when he couldn't remember the name of the third government agency he had pledged to eliminate as president. He named two, the Commerce and Education departments, and then acknowledged he couldn't remember the third. "I can't. Sorry. Oops," he said.
He came in fifth in the Iowa caucuses, sixth in the New Hampshire primary, and was soon packing for home.
Perry's early start for his 2016 bid—and the low expectations for his success—contrasts with his late entry in the 2012 Republican primary. After his August 2011 announcement, Perry surged ahead of eventual nominee Mitt Romney in polls.
After his humiliating collapse just five months later, major doubts surrounded his latest bid.
Always an optimist on the trail, where he showed some of the strongest retail campaign skills in the field, Perry shared that same  cheerfulness as he left the race. "Life is good," he said. "I am a blessed man."