Mixology Tips From NASCAR Champion Jimmie Johnson
Five tips for making perfect cocktails from a racing legend.
By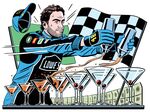 When six-time NASCAR champion Jimmie Johnson's not on the racetrack, he likes to make homemade mixers and hunt liquor stores for the ideal gin for his wife's favorite cocktail, a French 75. "I've come a long way from the Captain and Coke of my college days, though I still order it sometimes when I'm out to dinner," he says. "It drives my wife nuts." He shares his recommendations for making a grown-up drink.
1. Ditch the ice cubes. Pucs Stainless Steel Beverage Stones ($39) will keep your cocktails chilled without affecting the flavor. If you need ice, try a large, slow-melting sphere. Whiskey Ball has jumbo-size ice trays that make cubes that remain solid long after the last sip. Fill the mold with distilled water so the cube doesn't look murky.
2. Learn how to make simple syrup and always have it on hand. It gives you instant credibility. Combine 1 cup of water and 1 cup of sugar in a pot, bring to a boil, and simmer for 3 minutes. (It's called "simple syrup" for a reason.) Use it in mojitos, Tom Collinses, old-fashioneds, you name it. It will keep in the fridge for as long as a month.
4. I'm a fan of Moscow Mules. They're simple but not boring and can be tweaked for every season. Add a splash of apple cider in the fall or top them with sliced peaches in the summer. I use Reed's Ginger Brew as my base. It's made in Jamaica, where people still make this stuff in their kitchens. And I like Ketel One vodka, because it's smooth and easy to find.
5. Invest in a cocktail book that covers the basics, like the difference between crème de cassis and Chambord. Assouline's Vintage Cocktails ($50) includes old-school drinks such as pisco sours and Sazeracs, and the type is large enough to be legible after a few nightcaps. Memorize a few standbys for when company's over.
Read this next:
Before it's here, it's on the Bloomberg Terminal.
LEARN MORE