business
Fed Confronts Currency Threat That Doomed ECB, Aussie Rate Rises
By
Greenback has strengthened more than 20 percent since 2012

Aussie surged 46 percent before RBA increases were unwound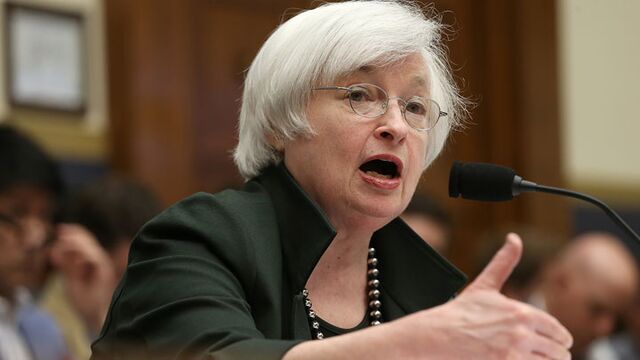 The Federal Reserve's plans to raise interest rates for the first time in almost a decade are spurring the sort of currency gains that helped force four developed central banks since 2011 to unwind their decisions to tighten policy.
Officials in Europe, Canada, Australia and New Zealand raised benchmark rates in the years following the global financial crisis, only to backtrack as soaring currencies and weak global demand exposed economies that were too weak to cope with tighter monetary conditions. Markets are pricing some chance of further easing for the three commodity-producing nations, while the European Central Bank has signaled it's able to increase bond-buying stimulus if needed.

"That's an example of those central banks looking only domestically and not internationally, and obviously, it was found to be bad policy making," said Patrick Bennett, a strategist at Canadian Imperial Bank of Commerce in Hong Kong. "The challenge really is; can the Fed start to normalize rates and how does the economy play out in the future?"
While the U.S. jobless rate fell to a seven-year low in August, the Fed's preferred measure of inflation has remained under its target for more than three years, sitting at an annual pace of 0.3 percent in July. Policy makers have twin goals of maximum sustainable employment and inflation of around 2 percent.
Bennett said the Fed probably will increase rates at the end of its Sept. 16-17 meeting. Traders see a 26 percent probability the central bank will raise 
rates, down from 38 percent odds at the end of August. The calculation is based on the assumption that the effective fed funds rate will average 0.375 percent after the first increase.
While the U.S. dollar will climb, the world's largest economy is somewhat insulated by its position as an "exporter of ideas and technology," which are less sensitive to currency moves, Bennett said.

The Bloomberg Dollar Spot Index, a gauge of the greenback versus 10 major peers, has risen about 7 percent since Dec. 31, adding to its 15 percent advance over the previous two years. The euro, which climbed as high as $1.4940 as the ECB increased rates in 2011, traded at $1.1282 as of 7:49 a.m. in London on Friday.
The Canadian dollar strengthened 5.4 percent in 2010 as the Bank of Canada added 75 basis points to its benchmark. Policy makers maintained a 1 percent rate before cutting in January and July as the economy slumped into recession.
Australia's currency surged 46 percent over 2009 and 2010 as the Reserve Bank raised its benchmark 1.75 percentage points to 4.75 percent before starting to unwind the increases in the following year. The Aussie traded at 70.61 U.S. cents Friday, down 36 percent from the record high reached in 2011.
New Zealand's dollar fell 1.6 percent Thursday after central bank Governor Graeme Wheeler announced a third cut to the benchmark in three months, while maintaining that last year's one percentage point of increases had been the right decision. The kiwi is about 30 percent weaker than last year's near-record high and Wheeler said that further depreciation "is appropriate."
"I think at Jackson Hole Stanley Fischer made an interesting comment," Wheeler said Thursday when asked if he'd made a mistake by tightening last year. "He basically said, by the time you absolutely know what is needed to be done, it is too late, and I think that's the case."
Fischer is Fed vice chairman and the Kansas City Fed holds an annual gathering in Jackson Hole, Wyoming.
— With assistance by Tracy Withers
Before it's here, it's on the Bloomberg Terminal.
LEARN MORE