markets
Commercial Credit Is the New Mortgage Credit
Corporate debt products are the hot thing.
By and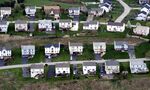 Meet the incredible, shrinking mortgage bond market.
In the wake of an unprecedented U.S. housing bust that evolved into a global financial crisis, the business of bundling home loans that aren't backed by the American government into bonds that can be sold to investors has all but disappeared.
It's a point underscored on Friday by Laurie Goodman, Director of the Housing Finance Policy Center at the Urban Institute, in a paper titled: "The Rebirth of Securitization: Where Is the Private-Label Mortgage Market?"
The below table shows the percentage change in sales of various types of securitizations. Automobiles refers to bonds backed by auto loans, while high-yield CLOs are collateralized loan obligations comprised of loans made to junk-rated companies. CMBS are backed by commercial real estate loans, while private-label residential mortgage-backed securities, or RMBS, are bonds comprised of home loans that don't carry backing from U.S. government housing agencies, Fannie Mae or Freddie Mac.

The trend is clear. Sales of residential mortgage bonds that don't come with any sort of government backing has fallen off a cliff in the time period, while issuance of other types of debt has been surging. Sales of products linked to corporate credit, in particular, have been super-sized. Some types of consumer credit products have also been in high demand, which is one reason why auto bonds have been jumping.
Goodman outlines a trio of reasons for those diverging fortunes:
Three factors explain the difference in recent volumes between other asset-backed securitizations (automobiles, credit cards, student loans, high-yield loans, and commercial mortgages) and private-label residential mortgage-backed securities (RMBSs):

* Mortgages exhibited the most severe dislocations of any asset class. These dislocations exposed flaws in the cash flow waterfall and the collateral that backed private-label securities.

* Mortgages were the only asset class to experience significant policy changes affecting already outstanding securities in the wake of the crisis.

Though the interests of investors and issuers were largely aligned in the securitizations of other asset classes, private-label securities were riddled with conflicts of interest among all key players.
While the total amount of commercial-related securitizations outstanding remains relatively small compared to residential mortgage bonds, the trend here is arguably a big one.
In addition to sliced-and-diced securitizations, sales of regular old corporate bonds have also been booming.
U.S. corporate debt outstanding has doubled in size since 2001 to reach $7.8 trillion, according to data from the Securities Industry and Financial Markets Association. A huge chunk of that jump has occurred in the years following the financial crisis, as companies sought to lock-in low borrowing rates and investors hungered for the resulting, higher-yielding bonds to put into their portfolios -- similar dynamics to the ones driving issuance of commercial-related securitizations.
Whether the surging popularity of commercial credit in all its forms results in the same kind of bust that overtook the housing bond market remains to be seen. Plenty of analysts, investors and regulators have certainly expressed concerns about an asset class that is being chased by so many yield-hungry investors, and pitched by so many profit-hungry financial institutions.
Before it's here, it's on the Bloomberg Terminal.
LEARN MORE