China Credit Growth Expanded in August as Rate Cuts Kick In
Bloomberg News
Aggregate financing increased to 1.08 trillion yuan for period

New yuan loans decreased to 809.6 billion yuan in month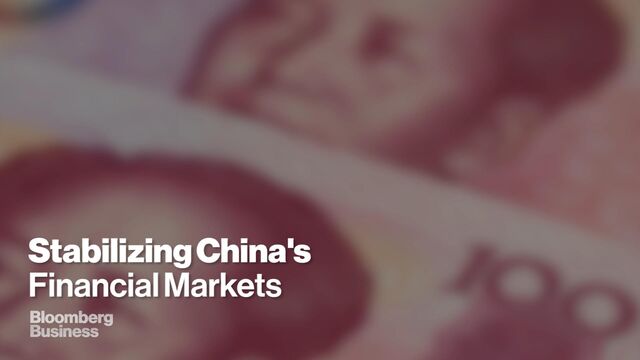 China's broadest measure of new credit increased in August, suggesting demand for loans is holding up after renewed rounds of monetary easing that followed the stock-market debacle of the past three months.
Aggregate financing rose to 1.08 trillion yuan ($169.5 billion) in August, from 718.8 billion yuan in July, according to a report Thursday from the People's Bank of China that matched the estimate for 1 trillion yuan in a survey of economists.
"Credit growth is staying on track despite the stock market volatility," said Larry Hu, head of China economics at Macquarie Securities Ltd. in Hong Kong. "We're going to see a pickup in the fourth quarter" for economic growth.
The credit data offers slight relief to policy makers, as factory deflation deepens to the worst level since 2009 and pushes the real interest rates higher for the industrial sector already hurt by overcapacity and weak demand. Slumping exports and manufacturing may help spur more easing in addition to the rounds that followed the stock-market slide starting in June.
New yuan loans fell to 809.6 billion yuan after surging to a six-year high of 1.48 trillion yuan in July on government stock rescue efforts. M2 money supply rose 13.3 percent from a year earlier. The money supply matched analysts' median forecast, while economists had projected an 850 billion yuan increase in new loans.
The PBOC has cut interest rates five times since November and lowered the amount of deposits banks have to set aside as reserves in a bid to boost lending and avert a further slowdown.
"Banks still have pretty strong motivation to expand their balance sheets as monetary policy remains eased," said Zhou Hao, a Singapore-based economist at Commerzbank AG.
The Shanghai Composite Index has tumbled 38 percent since June 12, roiling stocks and emerging-market currencies worldwide. The equity benchmark snapped a three-week losing streak this week to advance 1.3 percent.
— With assistance by Xiaoqing Pi, and Kevin Hamlin
Before it's here, it's on the Bloomberg Terminal.
LEARN MORE