Charting the Markets: Global Stocks Set for Weekly Gain
Asian stocks look set to end their longest losing streak in four years while volatility drops for the first week in the past four.
By
Asian stock markets look set to end their longest losing streak in four years. The MSCI Asia Pacific Index is headed for its first weekly gain in eight amid optimism Chinese authorities will stabilize the nation's economy and financial markets. The week opened with People's Bank of China Governor Zhou Ziaochuan saying the rout in Chinese equities is close to ending. Chinese Premier Li Keqiang bookended the week by saying authorities have sufficient tools to prop up the economy. Zhou's comments helped the Shanghai Composite gain for the first week in four. Emerging Market stocks, as measured by the MSCI Emerging Markets Index, are set for the biggest weekly rise since April. European stocks fell at the open on Friday but remain on track for the biggest weekly increase since mid-July. Attention now turns to next week's Federal Reserve policy meeting.

China shares trading in Hong Kong, otherwise known as H-shares, registered their biggest weekly advance since April, despite a 0.60 percent drop on Friday. Earlier in the session the Hang Seng China Enterprises Index received a boost from analysts at Deutsche Bank, who forecast a 33 percent rally in the gauge by the end of 2015 as the government deploys more fiscal stimulus. H-shares had their biggest two-day rally in four years through Wednesday. The index has still sunk 34 percent since hitting a seven-year high in May. That's left valuations cheaper than any other market in Asia.

Volatility is set to drop for the first week in four, according to a gauge tracking swings across global equities, rates, currencies and commodities. The index closed above zero for the first time in more than two years on Aug. 24 - the day global stocks sank the most in four years - indicating more stress than is normal. Levels less than zero point to less stress than is normal. Volatility peaked on Sept. 4, the highest since January 2012.

From bottom to top of the pile. Europe's basic resource index has gone from the worst performing industry group last week to the best this week. The gauge's fortunes are tied to China, the world's biggest consumer of base metals. Glencore bounced back from its worst week ever. It is set to post a double-digit gain for the past five days after the miner and commodity trader announced plans to sell shares and scrap its dividend to cut its $30 billion debt pile. The Basic Resource Index has rebounded 8 percent since slumping to a six-year low on Aug. 4. It is still trading 30 percent below its high for 2015.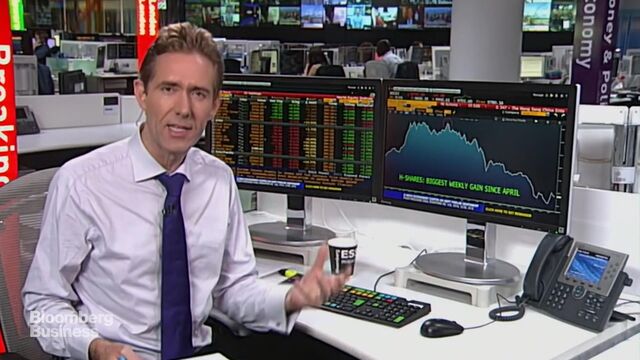 Mark Barton is a presenter on Bloomberg TV. Follow him on Twitter @markbartontv