Banksy 'Art Buff' Ordered Back to English Seaside From New York
By
Artwork should return to Folkestone town, London judge says

Unsold mural shown at New York Keszler Gallery, Miami art fair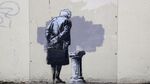 A Banksy mural, once valued at more than $720,000, must be returned to a British seaside town after it failed to sell in the U.S., a London judge ruled.
The "Art Buff" attributed to the pseudo-anonymous British graffiti artist, was painted as part of a public art project last year on the side of a Folkestone amusement arcade called "Dreamland."

A section of the wall including the mural was later removed by the operators of Dreamland and ultimately sent to the Keszler Gallery in New York. It was later exhibited for sale at a Miami fair following valuations as high as 470,000 pounds ($724,600), according to the ruling handed down in London Friday.
The tenant had "no reasonable prospect of establishing that it was entitled, let alone obliged, to remove the mural," Judge Richard Arnold said. The "Art Buff" is currently being held in an independent storage unit in New York, the judge said. 
The mural must be delivered to the Creative Foundation, a Folkestone-based charity set up to promote the regeneration of the town through creativity and the arts.
The verdict will impact "art law and future cases involving Banksy's and other street art," Boodle Hatfield, the law firm representing the charity said in a statement. 
'Rightful Home'
"Many local people had asked us to do our best to ensure that the work returned to Folkestone," Alastair Upton, chief executive officer of the Creative Foundation, said in a statement. He said he looked forward to the day the town can welcome the mural "back to its rightful home."
A 2012 Banksy spray painting "Slave Labour," showing a boy making Union Jack bunting with a sewing machine, sold for more than 750,000 pounds in 2013. In January, auction house Bonhams auctioned off works including a stencil on canvas called Precision Bombing that depicts figures in black in the path of a gun sight. It sold for 40,000 pounds.
Lawyers representing Dreamland didn't immediately respond to requests for comment.
Before it's here, it's on the Bloomberg Terminal.
LEARN MORE