You Aren't Good Enough to Win Money Playing Daily Fantasy Football
Is that a problem for DraftKings and FanDuel?
By and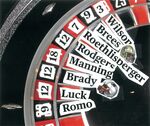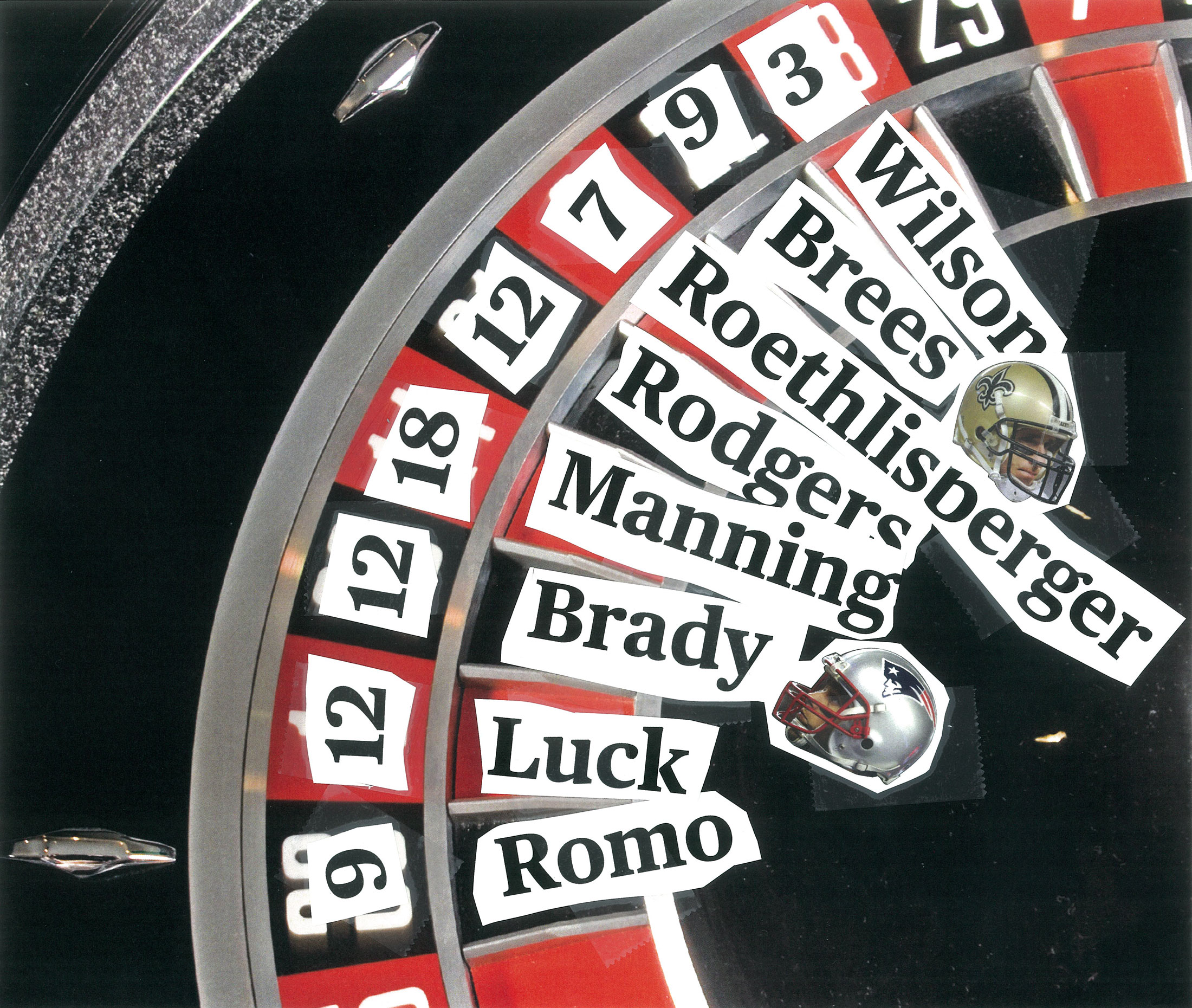 Every first-time player of daily fantasy football begins the new season undefeated, just like even the most hopeless NFL teams. But after 16 weeks of real football, most rookie fantasy players will have been separated from their money, just as certainly as the Cleveland Browns will be disabused of their playoff ambitions. 
Daily fantasy is getting ready to generate more losers in 2015 than ever before. Each year in the history of daily fantasy sports has been bigger than the last, and September has become the biggest month for new fans trying the game, which combines the stats-jockeying of traditional fantasy contests with the thrills of old-fashioned sports betting. (Fantasy sports are exempted from the federal ban on sports gambling.) FanDuel and DraftKings, the two main services, will bring in a combined $60 million in entry fees in the first week of the NFL season, according to Adam Krejcik, a partner at Eilers Research. Sports books in Las Vegas, by contrast, are expected to handle about $30 million.  
The rival startups prospered in football's offseason. Both companies raised huge new rounds of investment, bringing DraftKings's total haul to $426 million and FanDuel's to $363 million, and both are now valued at more than $1 billion. To get to the size their investors are expecting requires a continuous stream of new players lured by ever-increasing prize pools with the help of muscular advertising campaigns. These ads never spell out a simple truth about daily fantasy competitions: While any player might get lucky on the back of a handful of entries, over time nearly all of the prize money flows to a tiny elite equipped with elaborate statistical modeling and automated tools that can manage hundreds of entries at once and identify the weakest opponents.
As in poker, the top fantasy players who make off with most of the prize money are known as "sharks," and they've become embodiments of the riches on offer as well as threats to continued growth. "We don't make any apologies that it's a game of skill, and you might go up against the best in the industry," says Nigel Eccles, the chief executive of FanDuel. "Some of the people are really good." But new players won't stick around to keep paying entry fees unless there's at least a sense that victory is possible. Nobody wants to be a fantasy football fish.
Saahil Sud is a fake-sports apex predator. He enters hundreds of daily contests in baseball and football under the name "maxdalury," and he almost always trounces the field. He claims to risk an average of $140,000 per day with a return of about 8 percent. Sud studied math and economics at Amherst College and took a job in data science at a digital marketing firm before shifting to full-time fantasy. He's now the top-ranked daily fantasy sports player, according to Rotogrinders, a stats site for daily fantasy players. He says he's made more than $2 million so far this year.
Does the influx of new players in September make for easier money? Sud laughs at the question. "A lot easier," he says. Sud's theory is that the NFL season even makes the action on daily fantasy baseball more lucrative for the sharks, since impatient players are often tempted to rewager money won on Sundays during the next week even if they don't follow MLB closely.
DraftKings' promotional strategy echoes Sud's belief in a crossover effect, with a $2.5 million baseball tournament scheduled for the first Tuesday of NFL season. "When people come and they see how simple and low commitment that first weekend of NFL is," says DraftKings Chief Executive Jason Robins, "they are very apt to try the baseball game."
What Sud does each day doesn't seem much like sports fandom—or even like much fun. He spends between eight and 15 hours working from his two-bedroom apartment in downtown Boston; the range reflects his uncertainly over whether to count the time watching games as work. During baseball season he puts about 200 entries into tournaments each night, and he can play more than 1,000 times in the weekly contests during NFL season.
The first step is scraping data from various public resources online and plugging the numbers into his custom-built predictive models, which generate hundreds of lineups based on his forecasts. There are publicly available tools that do some of this work for daily fantasy players, but Sud created bespoke software to make sure no one else can access his data. He also has a technique for identifying athletes who aren't going to end up on a lot of other team's rosters, which is important, because there's a particular advantage in choosing players no one else has noticed.
Once his lineups are entered, Sud watches the games with only a general sense of his rooting interests. "If a player that is in 50 percent of your teams does well, there are bound to be good combinations in there," he says. "You can't follow along every play, every time. When you're doing this full time, it would drive you insane." 
DraftKings and FanDuel are testing new ways to make less successful players feel comfortable and enhance the impression that games are fair and winnable. For the massive tournaments whose prizes regularly top $1 million, both websites now limit the number of entries from a single player. FanDuel put a cap of about 1,000 entries on big football tournaments this year. For DraftKings's "Millionaire Maker" tournament, players are limited to 500 entries at the $10 level.
These limits seem almost laughably nonrestrictive until you understand how top players operate. Analysis from Rotogrinders conducted for Bloomberg shows that the top 100 ranked players enter 330 winning lineups per day, and the top 10 players combine to win an average of 873 times daily. The remaining field of approximately 20,000 players tracked by Rotogrinders wins just 13 times per day, on average.
To protect the minnows from sharks like Sud, FanDuel is now encouraging new players to join rookie games open only players who have used the site for less than a month. DraftKings also offers beginner games for those with fewer than 50 past entries in a sport. "To some extent, that's just the nature of the beast that you are going to have players that are better than others," says Robins. He believes "sharky" players make up less than a tenth of a percent of the overall user base. 
And there's evidence that Sud's victims aren't all clueless rookies—many are free-spending whales who hope to evolve into sharks in their own right. (Marine metaphors are common when describing the industry but don't always track precisely to actual science.) According to data published in July in Sports Business Journal, 36 percent of lost entry fees on one daily site during the first half of the current baseball season came from just 5 percent of the players. "That 5 percent is a critical number," says Daniel Singer, a senior adviser at McKinsey & Co.'s Global Sports & Gaming Practice and co-author of the study. These big spenders invested an average of $3,600 on entry fees and lost an average of $1,100, a negative 31 percent return. 
The money-losing players tend to get lucky, win a few times, reinvest the prize money, and eventually lose. The losses are split evenly between daily fantasy sports websites such as DraftKings and FanDuel and the sharks like Sud. Only the top 1.3 percent of players finished in the green during the three months measured by the Sport Business Journal. An unrelated survey of more than 1,400 fantasy sports players conducted by Krejcik of Eilers Research this summer found that 70 percent of participants have lost money. 
Both FanDuel and DraftKings take issue with these findings drawn from the baseball season, which the companies see as a particularly sharky stretch of the sports calendar. Robins also argues that it's too short a slice to capture a true picture, and some of the money-losing whales will eventually rise again. At DraftKings, he says, few players lose big and most end up somewhere near break-even. "Some players who lose consistently leave," Robins notes, "but some of them get better."

It's not even clear that it matters that most players lose. Nobody thinks lotteries and slot machines are wise investments, yet we keep pressing our luck. And, of course, no one has ever turned a profit from hanging around a sports bar and drinking for an entire Sunday afternoon. "Whether they win or lose, the feedback is that they love the experience," says Eccles. "By definition, the average player is going to lose money." 
The daily fantasy industry spent the summer engaged in a debate over automation. Critics took issue with how some players, including Sud, used software to change hundreds of lineups in response to last-minute injuries and other developments. DraftKings and FanDuel issued clearer policies and now require players to get permission before running scripts. They also forbid online tools such as FanDuel Fish Finder, which help players find weak opponents for head-to-head matchups. "That kind of stuff is cancerous to the long-term longevity of the sport," says Robins.
Allowing some automation gave explicit blessing to activities that previously existed in a gray area and disappointed those players who had been calling for an outright ban. Now the number of players who do use automated tools is almost certainly going to grow. Following the policy announcements, Rotogrinders released browser extensions that allow players to enter contests automatically on both sites. Sud, the biggest of the sharks, says none of the rule changes have cause him to adjust his software-heavy methods. 
Making money from fantasy sports is perfectly legal. A federal law restricting sports gambling has an exemption for games of skill, which fantasy games fit into. The early rise of daily fantasy sites was fueled largely by former online poker players fleeing a crackdown on that industry. Almost half of daily fantasy players in Krejcik's survey said they used to play poker for money online. 
FanDuel and DraftKings have to keep the sharks happy. The top players, after all, will always be their biggest customers. There are also legal risks to enforcing any limits. As part of their exemption from gambling laws, daily fantasy sites are required to set their prizes in advance, without knowing how many people will sign up. If a site says it is going to offer a $1 million prize for a tournament with a $20 entry fee, it has to pay out whether it attracts 60,000 players or 30,000. Falling short can be very expensive. 
In the short term, there's always advertising. DraftKings was the largest buyer of television ads in the first week of September, dropping $23.6 million over that period, according to ispot.tv. But the easiest way to ensure that tournaments are full could be to let the sharks enter as many times as they want. High-volume players tend to grouse about the limits on the number of times they can enter and don't share in their hosts' need to please investors by bringing huge audiences to daily fantasy.
"If the industry never grew another person beyond what it is right now, if everybody who's in there right now just kept circulating around, I'd be perfectively fine with that," says David Kaplen, a San Antonio-based pro who risks about $30,000 per week during the NFL season. 
That's not to say that all sharks are out to take advantage of the minnows. Justin van Zuiden, a  31-year-old who lives in Sterling, Ill., and goes by the online handle "STLCardinals84," invests about $5,000 in entry fees for about 50 rosters on an average night during the baseball and basketball seasons. When football season starts, he raises his Sunday spend as high as $8,000. He claims to have made "high five figures, low six figures" over each of the past three years, which is more than he earns from his day job working as a certified public accountant. 
"Be careful with your dollars and start small," van Zuiden wants to tell novices. "No matter how much somebody knows about sports, if you put an established player up against a new player, that established player's probably going to have a 75 percent chance of winning—at least." There's even something like honor among fantasy heavyweights: Van Zuiden, who has collected more than 10,000 wins with Fan Duel alone, will take only one head-to-head game per night against a player with just a few wins to his name. "That's kind of a common courtesy," he says.
Before it's here, it's on the Bloomberg Terminal.
LEARN MORE