Where and What to Drink in Buenos Aires, From the Top Local Bartender
Ludo de Biaggi of Basa shares the best ways to imbibe in his city.
By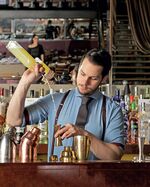 What's the nightlife scene like in B.A.?
We live in a drinking city. People here get off work around 6 p.m., have a couple of beers, possibly followed by a vermouth. With dinner, we drink wine—never cocktails. Dinner starts around 10 p.m. and can last until one in the morning. A digestivo or a glass of whiskey is the go-to post-dinner drink. People typically have one to three more cocktails in the after hours. It's not uncommon to stay out till 6 a.m.
What trends are you seeing?
Pineapple is the ingredient of the moment: Bartenders are infusing it, making syrups with it, and drying it for garnishes. A popular drink is the Cynar julep, with Cynar, grapefruit juice, tonic water, and sugar. It's light and bright. A lot of restaurants are investing in education for bartenders, which is wonderful. Years back, being a great bartender just meant knowing how to mix a drink. Now it's also about service, point of view, and inventive recipes.

What's your approach to drink making?
Cocktails should taste as advertised. If a drink has raspberry syrup, it should be homemade and taste like raspberries—one ingredient, that's it. I don't like drinks with a hundred things in them. I make my own bitters, ginger beer, cordials, and shrubs, and I carve my own ice. I want the cocktail to feel impressive, but I'm not trying to wow other bartenders. It's all about bowling over the customer.
What's your ideal night out in the city?

Ludo's Favorite Drink to Make
New York Sour
2 oz. bourbon
1 oz. lemon juice
1 oz. simple syrup
Splash of malbec
Shake everything except the malbec over ice and pour into a rocks glass with one large ice cube. Use the back of a spoon to float the malbec. Garnish with an orange wedge or wheel.
Find de Biaggi behind the bar at Basa, an airy basement spot that opened in 2013.
Read this next:
Before it's here, it's on the Bloomberg Terminal.
LEARN MORE