Sue Your Bank, Keep Your Home, Repeat
Inside a deeply suspect mortgage-relief operation in L.A.
By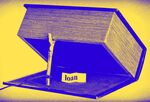 Four years ago, Robert and Joan Potter were facing a crisis. The monthly payments on their two-bedroom home in the coastal suburb of Laguna Niguel, Calif., had ballooned from $2,000 to $5,000 in the decade since they bought it for about $360,000. Now the retirees were rapidly falling behind.