business
Richest Finns Face Extra Tax as Government Fights Deficits
By
Finnish government will give itself a pay cut to aid budget

Taxes are set to rise on housing, some fuels and tobacco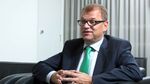 Finland's government unveiled a number of measures designed to cut its debt load, including extending a temporary tax on its richest citizens.
As Prime Minister Juha Sipila, a self-made millionaire and trained engineer, predicts budget deficits through 2019, his administration is searching for ways to generate additional revenue. Taxes will be raised on housing, some fuels and tobacco, the government in Helsinki said on Thursday. Sipila is targeting budget cuts of 4 billion euros ($4.5 billion) by 2019.
Finance Minister Alexander Stubb said the policies are designed to "restore trust" in the Finnish economy, which the government estimates probably won't grow in 2015 after suffering three years of contraction. He said the government will give itself a pay cut, equivalent to one week's salary, and urged parliament to do the same.
Though public debt will exceed 60 percent of gross domestic product this year, the government said it wasn't expecting the European Union to start excessive debt proceedings against it.
The higher tax rate affects all Finns earning more than 72,300 euros a year. It was originally introduced as a temporary measure under the previous administration.
(Updates with details of wealth tax in final paragraph.)
Before it's here, it's on the Bloomberg Terminal.
LEARN MORE