REITs May Not Be the Answer for Retailers
Hedge funds pressure big chains to trade property for cash.
By and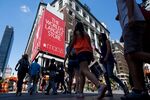 Activist investors have a message for retailers and restaurant chains: Spin off your property into a real estate investment trust, or we'll take over your board and force you to. Activists say that spinning off or selling properties can boost a company's stock price and reward investors who would otherwise miss a chance to benefit from record real estate values. Creating a REIT can also provide cash for companies looking to make an acquisition or other strategic move. Under pressure from hedge funds, Darden Restaurants has agreed to spin off property into a REIT, then lease the buildings back.
Some companies and shareholders consider this a bad idea. They say REITs holding property from just one retailer may not be the superior investments their proponents make them out to be. "The investors that are screaming for this are more short-term-focused activists that just want management teams to buy back stock with the proceeds and drive up the stock," says Joshua Schachter, senior money manager at Snow Capital Management, which owns Macy's shares. "I don't think, as a long-term investor, it's something I would want my companies doing a whole lot of." After a hedge fund said Ethan Allen Interiors should pursue a REIT or sale-leaseback strategy, the company said on Aug. 27 that doing so "would impose a burden of significant lease expenses" that would damage its finances and restrict its operating flexibility.
REITs are publicly traded companies that own property or mortgages. Their income isn't taxed, provided they pass almost all of it along to shareholders. Pershing Square Capital Management founder Bill Ackman was the first activist to encourage a large retailer to set up a REIT: In 2008 he pushed Target to spin off properties he figured could fetch $5.1 billion. Target refused, and Ackman's bid for seats on the retailer's board failed.
Since then, commercial property has become more valuable. Prices have roughly doubled from a 2009 trough and are about 20 percent higher than the previous 2007 peak, says Jim Sullivan, managing director of REIT research at Green Street Advisors. That has spurred activist investors to step up the pressure. "Anyone who owns commercial real estate should be thinking through, 'What do I own, what is it worth, and what should I do with it?' " Sullivan says.
Hedge fund manager Eddie Lampert is using the REIT strategy at his Sears Holdings. The company put 235 Sears and Kmart stores in a REIT called Seritage Growth Properties that began trading in early July. The stock has gained 12 percent since its debut. The REIT will find new tenants for the stores as Sears shrinks.
In July, Starboard Value, fresh from pushing Darden—which owns Olive Garden and other brands—to spin off 430 properties into a REIT, disclosed a stake in Macy's. The hedge fund estimates Macy's property accounts for about $21 billion of the department store chain's $29 billion total value and says the stock would be worth more if the chain spun off its real estate.
Macy's Chief Executive Officer Terry Lundgren has pledged to consider the proposal, but some analysts say there's no urgent reason for him to form a REIT. Macy's isn't Sears, which is losing money, burning through cash, and selling or spinning off assets in an effort to remake itself, according to Jeffrey Langbaum, a Bloomberg Intelligence analyst. Sears "probably wasn't viable," he says. "It had to basically become a real estate company."
Although Macy's has stumbled recently, cutting its same-store sales forecast for fiscal 2015, its management team has navigated the post-crisis U.S. economy. By owning its real estate and not being locked into long-term leases, the chain can open and close stores as needed. On Sept. 8 the company said it would close as many as 40 stores early next year. "How your business is going to fare over the next 10, 15, 20 years—that's the unknown," says Sullivan, whose firm is advising Macy's on the potential spinoff. "And what retailers and restaurant chains generally want is flexibility, the ability to adapt to new business conditions."
The bulk of Macy's real estate value lies in Manhattan's iconic Herald Square store. That means a Macy's REIT would be based largely on one building. Faced with a choice, Langbaum says, investors might prefer to buy shares in real estate investment trusts with multiple tenants. He asks: "Who's going to buy stock of a REIT that has nothing other than long-term leases to one tenant?"
The bottom line: With commercial property values 20 percent above their 2007 peak, retailers and restaurants consider REITs.
Before it's here, it's on the Bloomberg Terminal.
LEARN MORE