Rajoy's Trump-Like Candidate Poses Trump-Like Risks in Catalonia
By
PP candidate's anti-migrant record may draw blue-collar votes

Albiol criticizes Rajoy's Catalan strategy in interview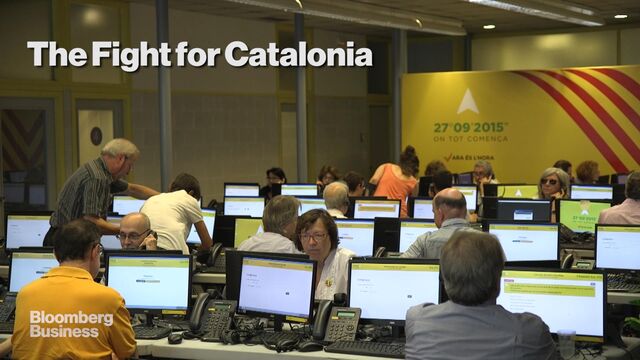 Prime Minister Mariano Rajoy's decision to pick a Donald Trump-style candidate to fire up his base in Catalonia is exposing Spain's governing party to risks that Republican leaders in the U.S. may recognize.
Xavier Garcia Albiol, a 47-year-old former basketballer who stands six foot eight inches (2 meters) tall, defied the People's Party's declines across most of Catalonia in 2011 to become mayor of the region's third-biggest city with a campaign that demonized immigrants.
While Rajoy may have calculated Albiol's track record was worth the risk, he probably didn't bank on the kind of off-message comments that have seen the would-be Republican presidential candidate rile his party's establishment in the U.S. -- in an interview last week, Albiol attacked the PP's strategy for containing Catalonia's efforts to break away from Spain and said the prime minister had made mistakes.
Rajoy is trying to revive his party's fortunes in Catalonia's Sept. 27 regional election to create a firebreak against Ciudadanos, a rival for the anti-independence, pro-business vote that is set to deny the prime minister an outright majority in December's general election. The election campaign proper kicks off on Friday when the separatist parties aim to bring hundreds of thousands of supporters onto the streets of Barcelona.

Spain's 10-year bonds fell yesterday with yields rising 2 basis points to 2.102 percent after a survey by the state pollster, CIS, showed separatist parties might win a majority with 68 or 69 deputies in the 135-strong chamber.
The PP is set to win as few as 12 seats, with barely half the votes of Ciudadanos, the poll showed. Outflanked by Ciudadanos's early opposition to Catalonia's separatist president, Artur Mas, Rajoy is betting that Albiol's ability to attract blue-collar voters by playing on their concerns about immigrants can limit the damage for his party.
"It shows that the PP is fully aware of its marginal role in Catalonia," Lluis Orriols, a political scientist at Madrid's Carlos III University, said in a phone interview. "Like Donald Trump, the PP candidate can mobilize a group of voters you can't reach otherwise, but you can hardly aspire to win like that."
Cleaning Up the Streets
Just as Trump, a 69-year-old property billionaire and World Wrestling Entertainment Hall of Famer, jump-started his presidential run by promising to expel millions of undocumented immigrants and labeling Mexicans drug-smuggling rapists, Albiol boosted his vote in Badalona by blaming Romanians for petty crime and promising to "clean up" the streets.
The PP is trying to polish their candidate's image in the run up to the ballot. The party picked him because of his ability to connect with the working-class voters in the same way that France's former president, Nicolas Sarkozy, is gaining traction, Pablo Casado, a PP lawmaker working on election campaigns, said in an interview last week.
"In France, voters traditionally closer to Socialists are particularly receptive to message about community safety and orderly immigration," Casado said. "In the area around Barcelona, there are a working-class people who agree with the People's Party's positions."
The parties opposing Catalan independence stand to benefit if they can boost turnout in this month's ballot. Half of their potential supporters still haven't decided whether to vote while 80 percent of those likely to back the separatists have already made up their minds, according to a Gesop's most recent poll released Sunday.
"The bigger the turnout, the more people opposing independence are likely to vote," said Daniel Solis, a Barcelona-based analyst at Gesop.
Criticizing Rajoy
While a certain degree of controversy may help serve the PP's cause, Casado said in an interview with Cadena Ser radio last month that Albiol's 2010 description of Romanian gypsies as a "plague" was "somewhat unfortunate." Albiol himself said his criticisms of the Romanian community in Badalona were based on their behavior, not their race.
"I don't hound people based on their religion or race but based on their conduct," he said in an interview last week in Lloret de Mar, a beach resort near Barcelona.
The other target for his criticism was the prime minister's strategy.
Albiol challenged Rajoy's decision to mount a constitutional-court challenge that saw extra powers granted to Catalonia struck down in 2010. That decision is cited by separatists as the trigger for their push to secede from Spain.
"Sometimes we've got it right and sometimes we've got it wrong," Albiol said. "The decision taken in 2010 was considered to be the right one. Perhaps in 
the current context things would look different."