Musk Ducks Super-Villain Question, Then Suggests Nuking Mars
Dana Hull and Jamie Butters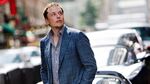 Elon Musk, whose Twitter photo evokes Dr. Evil, refused to let Stephen Colbert pigeonhole him as super-hero or super-villain.
"I'm trying to do useful things," said Musk, the billionaire chief executive officer of Tesla Motors Inc. and Space Exploration Technologies Corp., after the television host said he must pick one.
Musk mused about space travel and options for colonizing Mars in the second episode of "The Late Show With Stephen Colbert" which began airing late Wednesday. Calling Mars "inhospitable" and "a fixer-upper," he suggested it could be warmed to become more Earth-like, either slowly by releasing greenhouse gases into the atmosphere or more quickly by dropping thermonuclear weapons over the planet's poles.
"That's what a super-villain does," said Colbert. "Superman doesn't say 'We'll drop thermonuclear bombs.' That's Lex Luthor, man."
Colbert, a Model S owner, praised Musk's optimism about humankind's potential to improve life on this planet in the taped broadcast.
Colbert inherited the CBS late night slot from David Letterman and his early guests include both corporate leaders and politicians in addition to Hollywood stars. Musk appeared the same night as actress Scarlett Johansson, who said she met the mogul during the filming of Iron Man 2, which featured scenes at SpaceX and a cameo by the CEO.
"He's a lovely guy and very, very interesting," Johansson said.
On Thursday, scheduled guests include Uber Technologies CEO Travis Kalanick and Vice President Joe Biden. Tuesday's premiere featured actor George Clooney and former Florida Governor Jeb Bush.
Musk, 44, appeared on "The Colbert Report," Colbert's former show at Comedy Central, in 2010 and in 2014.
"I think the most important thing we need to solve this century is sustainable energy," Musk said on the Late Show.
Colbert responded: "You seem like the guy to do it."
Watch Next: The Entire History of Tesla in Two Minutes