Dairy Farmers at the Barricades
Reduced demand from Russia and China triggers a milk glut and lower prices.
By , , and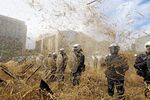 Talk to dairy farmers in Britain, the U.S., New Zealand, Canada, Argentina, and countries worldwide, and you'll hear the same thing: Times are tough. Russia's ban on European Union milk and the EU's removal of production quotas have driven local prices down 20 percent in the past 12 months. That's why 6,000 farmers and 2,000 tractors converged on Brussels on Sept. 7 to protest EU farm policies. Audrey Le Bivic, a dairy farmer from France's Brittany region, was grim: "I cannot pay my bills. If tomorrow I can no longer buy food for my cows, they will not produce any more milk, and I cannot let my cows starve."
The world is awash in milk, with global trade in whole milk powder at its lowest since 2011, the U.S. Department of Agriculture says. For the first seven months of 2015, American dairy exports were down 28 percent, compared with the same period in 2014, says the U.S. Dairy Export Council; the USDA expects purchases of whole milk powder by China, the world's biggest dairy importer, to drop 40 percent this year. The former No. 2 importer, Russia, has banned imports from not only the EU, but also the U.S. and Australia in retaliation for sanctions imposed to protest Russian intervention in Ukraine. "We don't see any major recovery in sight," says Pekka Pesonen, secretary general of Copa-Cogeca, a farm lobby in Brussels.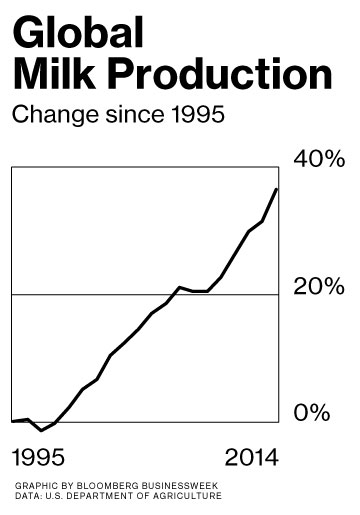 The Brussels demonstrations were the culmination of a summer of unrest in the countryside. French farmers blockaded highways; their Lithuanian counterparts dumped 30 tons of milk to highlight their plight. In the U.K. angry farmers raided supermarkets and emptied shelves of milk to pressure retailers including Wal-Mart Stores to commit to higher prices. "Dairy farmers have been losing huge amounts of money," says Rob Harrison, an English farmer.
China and Russia aren't the only culprits. Record prices last year primed farmers to bolster output in the U.S., where milk production in 2015 will reach 208.7 billion pounds—the fifth consecutive record-setting year. In April the EU, seeking to liberalize trade, removed quotas that had been in place for the past 30 years, leading to increased production from Ireland, the Netherlands, and the U.K. China is producing more milk thanks to investments such as a $140 million, 20,000-cow facility that China Modern Dairy Holdings, partly owned by private equity firm KKR, unveiled in 2013. The Chinese are also consuming stockpiled milk powder and importing less. Global milk supply grew 3.7 percent last year, almost triple the growth rate of 2013, the USDA says.
Dairy gluts have recurred since countries became more open to trade in the 1980s, says Andrew Novakovic, an economics professor at Cornell. Because cows don't have an on-off switch, increases in supply are harder to slow when demand drops unexpectedly. "If you overshoot because Russia's closed down and China's having an off year, prices go in the tank," he says. The U.S. has lost more than 76 percent of its dairy farms in the past 25 years. "This is a problem of globalization," he says. "You are exposing yourself to a lot of risk without a lot of control."
Fonterra, New Zealand's largest dairy cooperative, announced on Sept. 1 that it would offer interest-free loans to farmers. Hope Dairies, a unit of Hancock Prospecting, which is owned by Australian resources billionaire Gina Rinehart, has shelved plans to open an A$500 million ($349 million) dairy farm and milk powder facility in Queensland. Agri-Mark, a New England cooperative with $1.1 billion in sales last year, began dumping milk in June for the first time in a half-century.
Paul Doton, owner of a 130-cow dairy farm near Woodstock, Vt., is keeping production steady. Prices aren't covering his costs, but he still needs to sell milk to make his loan payments. "Everyone anticipated there'd be more supply, but we didn't think we'd see the demand drop the way it did," he says.
The dairy downturn has added an obstacle to the Trans-Pacific Partnership free-trade negotiations. New Zealand is demanding greater access to markets in Canada, Japan, and the U.S., which are feeling pressure from local farmers to hold on to protections that limit imports. During the latest round of TPP talks, in August, the government of Canadian Prime Minister Stephen Harper, facing a tough reelection battle in October, led the opposition to market liberalization. The meeting ended without an agreement.
In earlier slowdowns, exporters could count on ever-growing demand from China, but with the economy sputtering, Chinese consumers aren't propping up the market anymore. Also, a false botulism scare affected the exports of Fonterra to China. India, the world's biggest consumer of dairy products, isn't much help. India will need to import by 2020, says agriculture company Cargill, but for now is self-sufficient. Overcapacity "is a long-term problem that a short-term fix won't address," says Robbie Turner, head of European markets at Rice Dairy International.
Production in New Zealand could fall more than 8 percent in the 2015-16 season, says Michael Harvey, an analyst with Rabobank in Melbourne. Many farmers are taking the painful step of culling their herds. Chris Lewis has 1,150 cows in the Waikato region of New Zealand's North Island, 8 percent fewer than in 2013. He's seen bad times before and says the industry will turn around when demand picks up from China and Russia. "It's just a matter of time till they come back to the market," he says. For now, "the mood is very somber."
—With Marine Strauss
The bottom line: Milk gluts have been an unfortunate byproduct of globalization and the dismantling of quotas.
Before it's here, it's on the Bloomberg Terminal.
LEARN MORE