Lebanon Nears End to Trash Crisis That Sparked Violent Protests
Dana Khraiche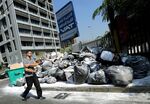 Lebanon moved closer to resolving a trash crisis that has left piles of garbage scattered on the streets and sparked the largest anti-government protests in years after cabinet agreed on a proposal to clean up the country.
The plan would assign bigger waste management roles to municipalities for the long term and calls for construction of landfills in border regions. The crisis began July 17 after Lebanon's main landfill was closed before officials had agreed on an alternative site.
According to the prime minister's office, that landfill would be reopened for a week to take trash that hasn't been collected in metropolitan Beirut since mid-July. Another landfill near the capital that's been out of service would be rehabilitated.
The trash crisis has become a metaphor for the political paralysis that has left the country, riven by sectarian differences, without a president since May 2014. The government's failure to clean up the mess led to demonstrations in Beirut last month that turned violent.