European Left's Woes Stalk U.K. With Corbyn Set to Lead Labour
By
Radical parties benefit as mainstream gives way to populism

Social Democracy `has vanished' between populist poles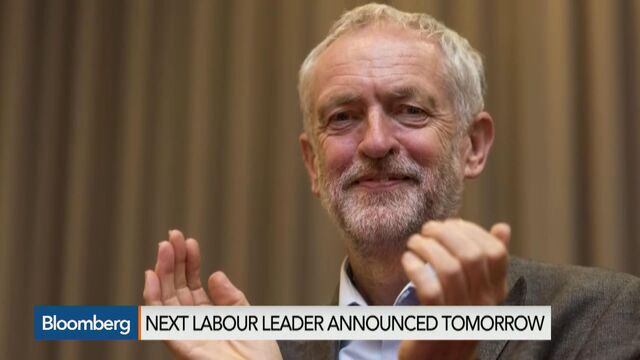 Are European conservatives riding high? Or is Europe's center-left riding low?
Britain will showcase the left's internal contradictions on Saturday when Jeremy Corbyn, who wants to renationalize railways, tap the central bank to finance public projects and mothball the U.K.'s nuclear deterrent, is favored to be elected leader of the opposition Labour Party. It's a prospect that horrifies Labour's most successful leader, Tony Blair.
The mainstream European left had its day at the turn of the millennium, when Blair and Germany's Gerhard Schroeder appeared to reconcile it with globalization, the market and European Union enlargement to the east.
The appearances were deceptive. The economic crisis caught European social democracy without easily marketable answers, giving new life to the radical left and leaving Blair-style modernizers adrift. As a result, it's a good time to be a conservative in Europe.
"The center-left is not in the front seat," said Rene Cuperus, director for international relations at the Dutch Labor Party's political research institution. "There is a strong protest movement against the guys in the front seat, but in northern Europe it's mostly right-wing populism and in southern Europe it's mostly left-wing populism. Social democracy has vanished between those two positions."
Vanishing Act
That vanishing act has been under way for the better part of a decade, starting in northern Europe with the backlash against immigration. In the south, working-class voters deserted center-left parties, veering either further left or to the extremist right, once Europe's financial upheavals led to cuts in public services.
Nowhere is the plunge in the left's electability more stunning than in Britain, where Labour under Blair won three elections. It did so by embracing the free market and the London banking establishment, only to see its credibility eroded by the financial crisis. Labour's second straight defeat in May led to a battle for the soul of the party between Blair's heirs and Corbyn, seen by the former premier as bringing "rout, possibly annihilation."
Labour's crash compares with the gentler descent of Germany's Social Democrats. As the junior partner in Chancellor Angela Merkel's first government and now again in her third, the party has made good on promises to increase parental benefits and enact a nationwide minimum wage. It just hasn't gotten any credit, languishing at about 25 percent in the polls.
'In Limbo'
"Social democratic parties not only endorsed policies traditionally sponsored by liberal-conservative parties, but they started to govern states together," said Jan Zielonka, a politics professor at Oxford University. Many party supporters were left "in limbo" as a result, he said.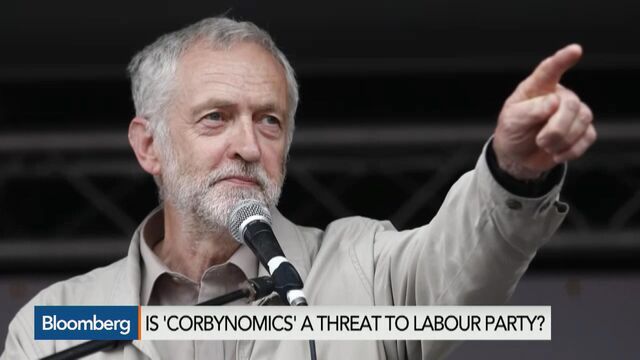 Elsewhere in office, the left is on the backfoot. Take France, where socialist President Francois Hollande, squeezed by the National Front, is setting unpopularity records. In Italy, Matteo Renzi's approval ratings have slid amid stubborn unemployment, and he is in no rush to put his economic-reform agenda to the electorate.
While the notion of market-friendly policies with a human touch still appeals to elites, working-class backers are shopping elsewhere. Many have drifted to anti-system parties like Greece's Syriza and Spain's Podemos; others have been seduced by the close-the-borders doctrine of nationalist parties such as France's National Front or Finland's The Finns.
Greek Trauma
With Greece wracked by six years of economic trauma that discredited both center-left and center-right governments, Syriza in January became the first protest party in Europe to attain power with the goal of overturning the system. Prime Minister Alexis Tsipras declared an end to "continued kowtowing" to austerity demanded by a German-led bloc of creditors.
He spoke too soon. Six months later, Tsipras surrendered, accepting even harsher economic medicine to keep Greece in the euro. Syriza's fundamentalists broke ranks and the government dissolved, sending Greece into new elections on Sept. 20.
For center-right leaders up for re-election like Spanish Prime Minister Mariano Rajoy, Syriza's setbacks are cause for celebration. Advocates of progressive politics see the Greek upstart party's continued existence, like the Corbyn phenomenon, as signs of a shifting European mood.
"Syriza wanted a different way forward, it wanted to challenge that centerpiece strategy," said Doreen Massey, an emeritus professor at the Open University in Britain and a founding editor of Soundings, a political and cultural journal. "That idea won't go away."