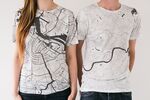 Graphic designer Alex Szabo-Haslam had trouble finding T-shirts and other goods emblazoned with a map of his hometown, Sheffield, England ("famous for steel, great electronic music, and terrible football teams," he says). He decided to print his own.
Using data from OpenStreetMap, Szabo-Haslam's line of Citees shirts depicts nearly 80 cities around the globe. "The way I work is quite obsessive," he says. "Things got a little out of hand."
At first, maps of cities might share similarities—but zooming in on intricate details calls out their distinctive features. "The shape of objects interests me," says Szabo-Haslam. That sentiment comes into crisp focus when the shirts depict cities bisected by or abutting bodies of water, denoted by swaths of black. Vancouver and Miami cut dramatic silhouettes, with waterfront landscapes jutting jaggedly into the water. Rivers squiggle through the metropolises of Brisbane and Budapest like gestural brushstrokes. Orlando's many lakes give that city's shirt a stippled look.
Other maps conjure pixels. With just a few patches of water, Phoenix assumes a grid pattern. Ditto Beijing. All of the designs strip away text and adhere to a stark color palette so that the aerial view commands attention.  
Since small-batch printing is costly, Szabo-Haslam took to Kickstarter. He quickly surpassed his fundraising goal seven-fold. Though he was surprised by the outpouring of enthusiasm, Szabo-Haslam acknowledges that maps resonate with a wide audience. "Maps are personal objects for a lot of people," he notes. "Particularly if you can find your home, perhaps somewhere you studied or took a holiday."







T-shirt, $38 pre-order on Kickstarter.