Buffett Unit Offers Emily Blunt Free Ice Cream After DQ Blunder
Claire Boston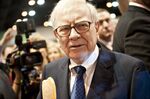 Dairy Queen, the ice cream seller owned by Warren Buffett's Berkshire Hathaway Inc., offered actress Emily Blunt free food and desserts for life after she was baffled by the initials DQ during a television appearance.
The U.K.-born Blunt, a recently naturalized American, said during an appearance on the "Jimmy Kimmel Live" talk show that the citizenship test was difficult. Kimmel challenged her to an alternative quiz, asking her, among other questions, to identify what DQ stood for. The actress didn't know, even as someone off-camera pantomimed licking an ice cream cone.
"We'd like to invite Ms. Blunt to lunch or dinner at Dairy Queen as many times as she'd like to come to celebrate her American citizenship," Barry Westrum, the restaurant chain's executive vice president of marketing, said Thursday in a statement. "We hope she'll take us up on our offer so she'll always remember what DQ stands for."
This isn't the first time Dairy Queen capitalized on a celebrity reference. In 2012, the company invited college football star Johnny Manziel to try working at one of its stores after talk-show host David Letterman advised the quarterback to quit football and open a DQ location.
Mark Cuban, owner of the National Basketball Association's Dallas Mavericks, accepted DQ's challenge to manage a Texas store in 2002 after saying he wouldn't hire the NBA's supervisor of officials to run a Dairy Queen.
Watch Next:
Warren Buffett's Take on China, Wages and Donald Trump