Apple Wakes Up to TV With Remodeled Box to Make Up for Lost Time
By
The new model is aimed at changing customers' ho-hum attitude

`The future of television is apps,' CEO Tim Cook says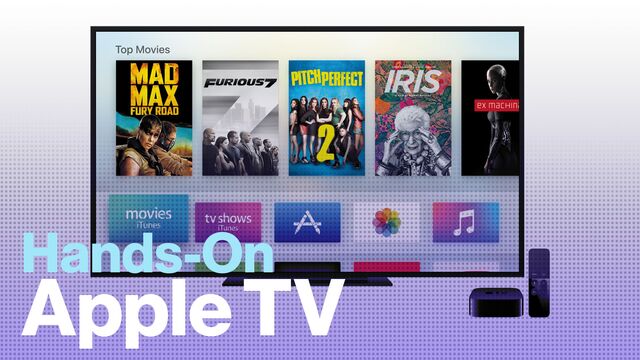 Since Steve Jobs unveiled the iPhone and Apple TV at the same event in 2007, the two products have taken radically different paths.
The iPhone has gone through nine iterations to become the world's most successful consumer electronics product, generating $102 billion in sales last fiscal year. While it got full-court-press advertising campaigns and development efforts, the set-top television box was treated largely as an afterthought. The hardware hadn't been updated since 2012. Apple Inc. never used its marketing muscle to convince people to buy one.
 
With the model introduced Wednesday, Chief Executive Officer Tim Cook shook the secondary status off Apple TV, dressing it up with Siri voice-recognition software, video games, an App Store and a touch-enabled remote control in the company's most significant attempt to reach customers in the living room.

But success is far from assured when it hits stores next month. For one thing, versions will sell for $149 and $199, making it more expensive than rivals. And the market's crowded with competitors that already boast many features that are new to Apple TV. Amazon.com Inc.'s Fire TV, for instance, has an app store and voice-based search features -- which the online retailer was happy to point out. "We've thought that apps and voice are the future of TV since we launched Amazon Fire TV 16 months ago," Amazon said in a statement. "We're flattered that Apple agrees with us."
Competitive Crush
There's a crush of companies vying to reach people who are viewing an increasing amount of television programming online and outside the traditional cable package. Roku and Google Inc.'s Chromecast also give people the ability to access Netflix, HBO and other streaming services. Video-game enthusiasts may still be likely to turn to video-game consoles from Microsoft Corp. and Sony Corp.
"Apple obviously knows this is an important area, but despite repeated attempts hasn't been really able to take hold of the market," said James McQuivey, an analyst at Forrester Research. The firm conducted a survey that found that just 19 percent of U.S. adults use or are interested in Apple TV.
The company said earlier this year that it's sold more than 25 million Apple TVs since it came out -- far less than the number of iPhones it sells in a single quarter. The revamped device is designed to change that.
Business Problem
It will allow people to search for a movie or show by speaking a title or actor's name into the remote control. Games and other video content can be downloaded from the store, and the remote doubles as a game controller like Nintendo Co.'s Wii.
"The television experience has been virtually standing still while innovation has been thriving in the mobile space," Cook said from the stage at the Bill Graham Civic Auditorium in San Francisco, a venue typically used for rock concerts. "Today we are going to do something about that."

One of the biggest breakthroughs remaining for the television-viewing experience has remained out of Apple's reach. For years the company has unsuccessfully negotiated with cable and media companies to offer an Internet-based alternative to the cable bundle subscription. The deals have never come together, as the owners of the rights to the content have been reluctant to partner with Apple.
That's a business problem, not a technological one, and could mean Apple TV is likely to remain a niche, McQuivey said. "It's maybe a bit painful to think this is the one market where a superior new device can't change everything. If you don't have the content, it will never be anything other than a hobby."
Company's Bet
Apple's counting on outside developers to differentiate its product, as it did so well with the apps that have been a key selling point for the iPhone and iPad. The company showed off applications for games, shopping and viewing sports. "The future of television is apps," Cook said.
The company is betting that if enough people buy the new device, it will help persuade media companies to strike deals that could change the pay-TV industry, said Brian Blau, an analyst at Gartner Inc.
"If they sell tens of millions then the advantage is going to be towards Apple," he said. "They are going to have better negotiating leverage."
For Related News and Information:
How Apple Built 3D Touch: The Grinding Work for a Single Feature
Apple Unveils New IPhones, IPad and Apple TV With Touch Remote
Apple's Sales By Product APPL US <Equity> PGEO
Top Stories:TOP
For more, read this QuickTake: Apple