Ready for Another Round of Bush Tax Cuts?
The former Florida governor previews the tax plan he claims will spur 4 percent economic growth.
By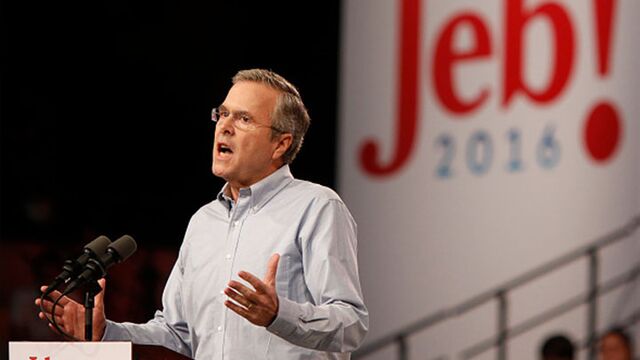 Republican presidential candidate Jeb Bush would push for steep rate cuts for millions of Americans and reduce the corporate income tax rate by more than 40 percent in a bid to simplify the tax system and double economic growth in the U.S.
Bush's plan would also end the estate tax, expand the Earned Income Tax Credit, and eliminate the alternative minimum tax, Bush wrote in a column published Tuesday by the Wall Street Journal.
Except for the charitable tax deductions, Bush plans to limit all other deductions to 2 percent of gross income, regardless of the deduction, his spokesman, Tim Miller, said in an e-mail. Charitable deductions would remain unchanged. The plan would also eliminate a 3.8 percent tax on investment income used to pay for Obamacare.
"Today, the tax code is a labyrinth littered with thousands of special-interest giveaways, subsidies and other breaks written to favor Washington insiders," Bush wrote. "At 80,000 pages, it's a tax code only an army of tax accountants and lobbyists could love—because they've written it."
Bush is scheduled to discuss his plan on Wednesday at a campaign stop in Raleigh, North Carolina. The son and brother of the past two Republican presidents is staking his campaign largely on his record as a former Florida governor and his policy ideas for America's future. The first TV ad of his campaign, released on Tuesday, compares himself to "self-promoters" and "D.C. politicians," a shot at billionaire Donald Trump and the three first-term U.S. senators seeking the Republican nomination.
In his column, Bush said he'd cut the corporate tax rate to 20 percent from 35 percent, a 43 percent reduction, to stop U.S. companies from taking advantage of lower rates overseas. Bush would also impose a mandatory 8.75 percent tax on stockpiled offshore earnings to help pay for the plan.
Instead of seven brackets on earners, Bush's plan divide U.S. workers into three: 28 percent, 25 percent, and 10 percent. Mitt Romney, the Republican presidential nominee in 2012, also suggested a top tax rate of 28 percent. The current rate is 39.6; Bush's brother, former President George W. Bush, reduced it to 35 percent while he was in office.
Miller declined to put a price tag on the tax cuts.
Stephen Moore, a leading supply-sider who advised U.S. Senator Rand Paul on his tax plan, said Bush's plan will be among the most detailed in the field. Moore received an advance copy of Bush's proposal, and offered him feedback in a private meeting on Tuesday.
Moore said that Bush expects his plan to increase growth in the U.S. by 10 percentage points over a decade.
"It's very pro-growth," Moore said in an interview. "We were very happy with the plan."
—Richard Rubin contributed to this report.
(CORRECTION: This story has been updated to reflect how Bush proposes to tax investment income. An earlier version of the story relied on incorrect information provided by the Bush campaign.)