business
Lufthansa Wins Court Ruling to Halt Strike in Pilot Dispute
By
Judge rules pilot strike over low-cost unit is ``unlawful''

Court says ruling is final and no further appeal is possible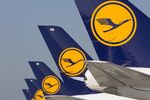 Deutsche Lufthansa AG won a German court ruling forcing pilots to halt a strike in a long-running labor dispute that led to more than 1,000 flights being canceled this week.
An appeals court in Frankfurt issued an injunction Wednesday on the walkout by the Vereinigung Cockpit pilots' union, reversing an initial decision from Tuesday. The court said the ruling is final and no further appeal is possible. The airline retracted a related appeal at a court in Cologne.
The conflict stems from a decision by Lufthansa, Europe's second-biggest network airline, to shift some mainline flights to a low-cost unit. Lufthansa, which has its biggest hub in Frankfurt, contends that the strategy is a business decision over which the union has no say, while Vereinigung Cockpit argues the reorganization affects its wage contracts. The court sided with the airline.
"It's not permitted to pretend to be fighting for a certain demand when in reality it is about something else," Presiding Judge Michael Horcher of the labor appeals court of the state of Hesse said at the Frankfurt hearing. "Much points to the union also seeking more say over the company's plans to create a low-cost carrier. That is not something that falls under collective bargaining and hence the strike is unlawful."
Shares Rise
Lufthansa shares rose as much as 2.1 percent, recovering from an earlier drop, and traded up 0.7 percent at 11.81 euros as of 3:47 p.m. in Frankfurt, valuing the company at 5.47 billion euros ($6.1 billion).
Vereinigung Cockpit called off the strike that was scheduled to run until midnight Wednesday, union spokesman Markus Wahl said. The labor group will now evaluate the written reasoning from the court and then decide how to proceed, pausing an earlier strategy that had indicated it could walk out "every week for the time being" if Cologne-based Lufthansa made no better offer, he said.
The union had demanded that Lufthansa halt measures to expand Eurowings, its low-cost arm, and made that a prerequisite for negotiations. That demand showed the strike wasn't only about benefits, as the union claimed, the judge said.
Lufthansa said after the court ruling that it's ready to return to the negotiating table. The company filed the lawsuits on Tuesday seeking injunctions against the walkout and adopted a tougher stance in the dispute, including imposing a hiring freeze. Chief Executive Officer Carsten Spohr said last week that he's ready to endure more strikes to compete with low-cost carriers and Persian Gulf rivals.
'Competitiveness' Needs
"Lufthansa's future competitiveness demands the creation of a low-cost
carrier," said Thomas Ubber, a lawyer at Allen & Overy who is representing the German airline. "The Vereinigung Cockpit union is trying to block measures Lufthansa initiated to regain its competitiveness."
The two-day stoppage prompted Lufthansa to scrap services as early as Monday. Lufthansa said its emergency schedule will remain in effect on Wednesday and that operations will be as normal as possible on Thursday. Earlier, it listed 56 canceled arrivals or departures for Thursday because crews or aircraft aren't in their assigned locations.
Pilots resumed striking six months after walkouts were suspended following a plane crash at Lufthansa's Germanwings unit. The union held the first of 12 stoppages in April 2014, and the most recent strike before this week took place three days before the March 24 crash.
— With assistance by Karin Matussek
Before it's here, it's on the Bloomberg Terminal.
LEARN MORE