Job Openings in U.S. Surge to Record While Hiring Cools
By
Monthly increase in openings was the biggest since April 2010

Record vacancies in retail, health care, professional services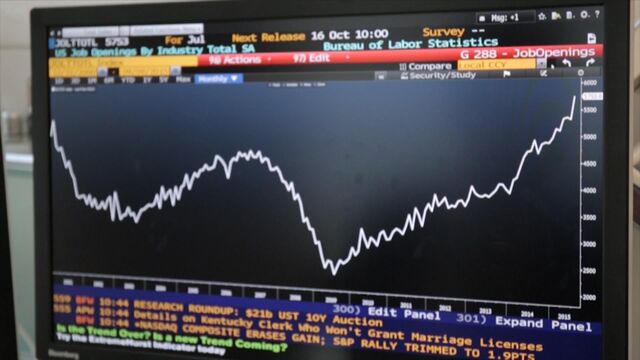 Job openings in the U.S. surged to a record in July as hiring cooled, a sign employers are having a hard time finding qualified workers.
The number of positions waiting to be filled jumped by 430,000, the biggest gain since April 2010, to 5.75 million, a Labor Department report showed Wednesday in Washington. That's the most in data going back to 2000.

The July data show employers were optimistic enough about the economic outlook to post more vacancies and compete for a dwindling pool of available workers as the jobless rate held at a seven-year low, which should eventually help push wages up. Federal Reserve officials also will have to consider whether market turmoil that began last month will offset labor-market improvement and interrupt plans to raise the benchmark interest rate for the first time since 2006.
Labor Demand
"The number of job openings now signals that the labor market is unable to supply the people companies need," Ian Shepherdson, chief economist at Pantheon Macroeconomics Ltd. in Newcastle, U.K., said in a research note. "Usually, that means wages will accelerate, though the evidence for that now is mixed."
Economists' Projections
The median forecast in a Bloomberg survey of economists projected 5.3 million openings in July.
The Job Openings and Labor Turnover Survey, or JOLTS, adds context to monthly payrolls figures by measuring dynamics such as resignations, help-wanted ads and the pace of hiring. Although it lags the Labor Department's other jobs data by a month, Fed Chair Janet Yellen has said she follows the report as a gauge of labor-market tightness and worker confidence.
The report showed record job openings at retailers, restaurants, health-care providers and professional-services companies.
"When you have record-high job openings, that's a good bellwether of business confidence," Labor Secretary Thomas Perez said in a telephone interview.
Some economists say the number of people who voluntarily leave their jobs and the pace of hiring are more important to Fed policy makers. About 2.7 million people quit their jobs in July, down from the prior month's 2.74 million. The quits rate, which shows the willingness of workers to leave their jobs, held at 1.9 percent and compares with a 2 percent reading when the recession started in December 2007.
Hiring Rate
The number of people hired declined to 4.98 million, pushing the hiring rate down to 3.5 percent from 3.7 percent in the previous report. The gauge calculates the number of hires during the month divided by the number who worked or received pay during that period.
"There is reason to believe policy makers focus more on the hiring and quit rates," Bloomberg economists Josh Wright and Carl Riccadonna wrote in a research note after the report. "Given the generally positive signals in more timely measures of labor-market health, this report is unlikely to change the debate heading into next week's FOMC meeting."
Fewer Dismissals
Total dismissals, which exclude retirements and those who left their jobs voluntarily, decreased to 1.61 million from 1.78 million in June.
In the 12 months ended in July, the economy created a net 2.7 million jobs, representing 60.6 million hires and 57.8 millions separations.
There are about 1.4 unemployed Americans vying for each opening, compared with about 1.8 when the last recession began in December 2007, the figures show.
The JOLTS data follow a separate Labor Department report last week that showed the jobless rate dropped to 5.1 percent in August, the lowest since April 2008 and into the range that the Fed has defined as "full employment." At the same time, payrolls grew by 173,000, less than projected and the smallest increase since March.
The figures offer more evidence for Fed policy makers to consider as they judge whether the labor market is showing the ongoing improvement necessary to merit an interest-rate increase at their Sept. 16-17 gathering. Some policy makers have said financial markets and a weakening Chinese growth outlook muddy the argument for a rate hike this month.