How Those 'Dudes' at Phillips Are Revamping the Auction House
By
CEO Dolman hires top executives from ex-employer Christie's.

Underdog makes bet on rare watches, online sales, modern art.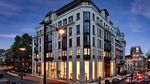 Jean-Paul Engelen quotes the cartoon characters Phineas and Ferb to explain why, after working for Christie's and the Qatari royal family, he joined the smaller auction house Phillips.
"Dude, we are getting the band back together," Engelen, Phillips's new worldwide head of contemporary art, said in an interview, citing the duo who concoct elaborate adventures. "That's how it feels at Phillips now."

This smaller rival to Christie's and Sotheby's is undergoing a transformation just as turmoil in the financial markets is poised to test the art world in the fall auction season. Chief Executive Officer Edward Dolman, appointed last year, is assembling a team of top former colleagues -- mostly men -- from Christie's, where he was CEO for a decade until 2011.
"Would I have come to Phillips five years ago? Absolutely not," said Engelen, 46, who left Christie's in 2011 after 16 years to head the public art and exhibition program at Qatar Museums. "At the moment Phillips feels like the most exciting and challenging place to be."
While a fierce rivalry between Sotheby's and Christie's grabs headlines, Phillips has been quietly gaining momentum. Executives said the goal is to boost profit by balancing innovation and expertise in tightly edited categories of 20th and 21st century art and collectibles.
Many Challenges
The auction house faces plenty of challenges. "It seemed every few years, Phillips launched some exciting changes, ambitious plans with grand new locations, new partnerships, new strategies, but at the end, it didn't meet the expectations or goals," said Grace Rong Li, who advises European and Chinese collectors.
Phillips has struggled to get top quality artworks for its high-profile evening auctions, offering sellers guarantees -- or undisclosed minimum prices -- to win consignments. Many of these lots have failed to spark active bidding, selling to the guarantors.
"They are definitely in third place," said David Nash, co-owner of Mitchell-Innes & Nash gallery in New York. "The obstacle they face is this: There are two very effective auctioneers at the top. What is the inducement they can offer to the seller to choose the third option?"
Phillips, known as a tastemaker for catapulting the prices of young artists and designers at auction, is embarking on its plan by adding online sales with EBay Inc., expanding into categories such as rare watches and modern art, rebranding its new art sale and organizing selling exhibitions at its chic new headquarters in London's Mayfair neighborhood.

"What we are doing is adapting the traditional auction house business model by focusing on 20th century and contemporary art and design in order to provide the best service and the best expertise with the best auction catalogs in the best exhibition spaces and to build a highly successful and profitable auction house," Dolman said in an interview.
Emerging Artists
Much of the draw is Dolman himself, several new hires said, crediting his loyalty, integrity and long-standing professional relationships. Dolman, 55, spent 27 years at Christie's, rising from a porter to CEO. He left Christie's to work as director and acting chief executive officer at Qatar Museums for almost three years until May 2014.
"The reason why I am doing this is the appeal to work in partnership with Ed Dolman," said Aurel Bacs, who helped launch Phillips's watch department in 2014. "He could have called me and said, 'I work for a supermarket chain and we want to do watch auctions."'
The sudden appeal of Phillips, which had about 1 percent of the global auction market in 2014, according to arts economist Clare McAndrew, may create pressure for its bigger competitors, which together controlled 42 percent of the market. An exodus of staffers from Christie's has intensified in recent months, with several senior specialists and managers seeing Phillips as an alternative. Christie's declined to comment on employee departures. Sotheby's declined to comment on Phillips's plans.
Robert Manley, the New York-based deputy chairman of postwar and contemporary art at Christie's, is leaving after 15 years to take a similar position at Phillips next year, according to people familiar with the matter who asked not to be identified.
Hugues Joffre, who left Christie's in February, will lead Phillips's expansion of 20th-century art and act as chief auctioneer. Last month, Sam Hines, former international co-head of Christie's watches department, became head of the same department at Phillips, based in Hong Kong.
Global Expansion
Another former Christie's executive, Frank Lasry, joined Phillips in January as its chief operating officer in the U.K., Europe and Asia. Bart van Son, who worked at Christie's for 13 years until 2013, became international business director at Phillips in June. Lisa King, who worked closely with Dolman at Christie's in roles such as chief operating officer, is now chief of staff at Phillips.
A separate notable hire: former Brooklyn Museum director Arnold Lehman is now a senior adviser for the brand's global expansion and exhibition programs.
One of Dolman's first steps was to partner with Bacs & Russo, whose co-founders Bacs and Livia Russo spent a decade leading Christie's international watch department.
The group decided to mix it up with inaugural sales on May 9 and 10 that were held in a packed tent in a parking lot outside Geneva rather than a hotel ballroom, Bacs said in a phone interview. Bidding for the top lot, a 1927 Patek Philippe single button chronograph, took 21 minutes, with the final price of 4.6 million Swiss francs more than double the high estimate of 2 million Swiss francs.
Bacs offered fewer lots than his rivals, and the sale tallied 29.6 million Swiss francs ($31.8 million), more than Sotheby's and Christie's combined during their similar events.
New Formula
"We were testing a new formula," Bacs, 43, said. "We did what we always thought should have been done. And now under Ed we can do it."
A similar vision -- quality over volume and turnover -- will be applied at other departments.
"We won't compare our sales with the big two," said Joffre, 57. "We want them to be good, clean and successful and to build from one success to another."
In June, Phillips tallied 18.2 million pounds ($28.6 million) at its contemporary art evening sale in London, an 84 percent increase from its equivalent event a year earlier. The top lot, Ai Weiwei's group of 12 sculptures, sold for 3.4 million pounds, an auction record the Chinese dissident artist. Phillips's result was a fraction of Sotheby's total of 130.4 million pounds at its similar sale while Christie's fetched 95.6 million pounds.
Phillips has rebranded its sale of lower-priced art by emerging or popular artists. "Under the Influence" is now "New Now." The Sept. 17 auction will include young artists with active resale markets. An abstract painting created last year by Joe Reihsen is estimated at $15,000 to $20,000, twice the estimate Phillips assigned to his first painting at auction five months ago.
'New Now'

Although American artist Joe Bradley's debut at Phillips in 2010 was a flop, "New Now" includes his wall piece made of two stacked pale pink monochrome canvases evoking a robot torso, estimated at as much as $500,000. That's a 3,900-percent increase in price since 2007, when "Nude (Bust)" was offered at $12,500 at Office Baroque gallery in Brussels, the gallery said.
Phillips, which dates to 1796, is no stranger to turbulence. French billionaire Bernard Arnault, chairman of LVMH Moet Hennessy Louis Vuitton SE, bought the company in 1999 and sold it three years later to Simon de Pury and Daniella Luxembourg. In 2003, de Pury bought out Luxembourg and for the next nine years the company was known as Phillips de Pury.
In 2008, the company was bought by Russia's Mercury Group, whose owners Leonid Friedland and Leonid Strunin are known in the art world as "the Leonids." The following year, the company found a new CEO: Bernd Runge, who had been a spy for the East German Stasi secret police in the 1980s. He lasted until September 2012. De Pury sold his remaining stake at the end of 2012.
The new Phillips team said they plan to slowly gain the confidence of buyers and sellers.
"If you want to create mini-Christie's or mini-Sotheby's people won't come," Engelen said. "You have to create your own voice."
Before it's here, it's on the Bloomberg Terminal.
LEARN MORE