benchmark
Here's How Growing Up in Poverty Hurts American Adults
New research shows stark differences between children who grew up poor and everyone else
By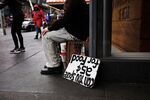 We already know that poverty disproportionately affects children, with about 20 percent of those younger than 18 impoverished versus about 13 percent of adults. New research from the Urban Institute in Washington shows child poverty is actually more common than those headline statistics suggest, and that has consequences for success in adulthood.
Some 39 percent of children are poor for at least one year before they reach their 18th birthday, according to Caroline Ratcliffe, a senior fellow and economist at Urban. For black children, that statistic is 75 percent, compared with 30 percent of whites.

A child is identified as poor if they live in a family whose gross annual money income is below the federal poverty level. For a family of three in 2015, that threshold is $20,090, according to the paper.
Poverty has huge implications for economic outcomes later in life, leaving children who experienced poverty "less likely to achieve important adult milestones," Ratcliffe wrote. Here are some of the things that tend to happen to Americans who grow up poor. 
1. They have a harder time finishing high school and college
While 93 percent of children who were never poor complete high school, that figure drops significantly for those who lived in poverty for at least one year (77.9 percent) or at least half of their childhood (63.5 percent) . 
The likelihoods of completing college are similarly stark. Just 3.2 percent of so-called "persistently poor" children and 13 percent of those who were ever poor finished at a university by the age of 25. For kids who were never impoverished the figure is 36.5 percent.

This is especially troubling since the educational achievement of a child is highly correlated with their parent's education, meaning the deficits can extend across generations.
2. They struggle to get or keep jobs as young adults
The U.S. workforce is also affected, with about half as many persistently poor children being "consistently employed" from 25 to 30 years old compared with those who did not experience poverty.
A person is defined as consistently employed if he or she reports being employed in each calendar year observed.
The finding meshes with the lower levels of educational achievement "and the fact that unemployment rates have historically been higher among lower-educated groups," the paper states.

3. They have higher rates of teen pregnancy 
Having a baby as a teenager outside of marriage also weighs on adult success down the road, especially with children costing an average $245,340 to raise until the age of 18.
Girls who are poor for less than a quarter of their childhoods are less likely to have a teen birth than girls living in poverty for a longer time period, the paper found.
(For more economic analysis, see Benchmark.)
Before it's here, it's on the Bloomberg Terminal.
LEARN MORE