Apple's Attention Puts Spotlight on Health-App Maker Mulling IPO
By
AirStrip featured in showcase of computing giant's products

Startup's product lets doctors monitor patient heart rates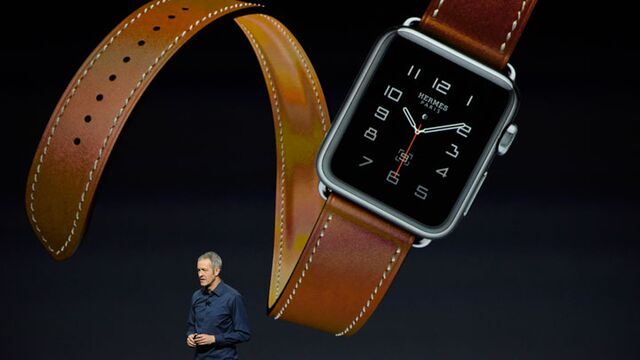 AirStrip Technologies Inc., the mobile health-app maker now featured twice by Apple Inc. during major product debuts, may be nearing an initial public offering as investor interest grows in mobile health-care software.
"I would say that 2016 is the year we need to make some important decisions," Alan Portela, AirStrip's chief executive officer, said in an interview. "Everything is lining up that we control our destiny. An IPO could be an interesting way to take the company to next level."
AirStrip's technology was showcased on Wednesday during Apple's highly anticipated annual event, where it also rolled out updated iPhones and a bigger iPad designed for business customers. AirStrip's app, which allows doctors to see their patients' heart rate on their iPads or iPhones, will now be available on the Apple Watch. The startup also has a system that lets doctors monitor fetal heart rates for high-risk pregnancies from their mobile devices.
About 30,000 doctors use AirStrip's apps, and many were enthusiastic about Apple's event Wednesday, Portela said. "I think they just about all texted me since this happened," he said. "I can see that doctors are really in desperate need to have more communication with the patients."
Apple first introduced an AirStrip app for the iPhone at the tech giant's developers conference in 2009.
Soaring Sales
As of Sept. 1, AirStrip has already exceeded its 2015 sales goal by 5 percent, Portela said. He declined to disclose the company's revenue but said international sales have increased 120 percent in each of the past two years since the San Antonio-based company acquired the Sense4Baby system that monitors high-risk pregnancies. The apps are cleared by the U.S. Food and Drug Administration, he said.
While Portela said an IPO is a real possibility, he said an outright sale isn't likely in the near future.
"As a company we're gaining a lot of momentum, and at this point we'd like to remain agile," he said. "Every time somebody says 'acquisition,' we say 'start with collaboration.' Right now we are enjoying the ride."
AirStrip's investors include HCA Holdings Inc., the largest for-profit hospital system in the U.S., as well as Sequoia Capital, Wellcome Trust and Qualcomm Inc.'s health-care investment unit, Qualcomm Life Fund. HCA also is one of AirStrip's customers, along with Tenet Healthcare Corp., the third-largest hospital chain in the U.S. by revenue.
The company intends to continue selling to health-care provider groups rather than directly to individual physicians or patients, Portela said.
The consulting company Research2Guidance estimated in a report last year that there were 100,000 mobile health apps available for Apple's iOS and Google Inc.'s Android operating systems, 14 percent of which targeted physicians. The market for mobile health apps totaled $2.4 billion in 2013 and is expected to skyrocket to $26 billion by the end of 2017, according to the report.