Cars
World Debut: The Bentley Bentayga SUV
The idea is to cosset you in such a cocoon of luxury that you'll feel at home in the Mojave desert and on Park Avenue
By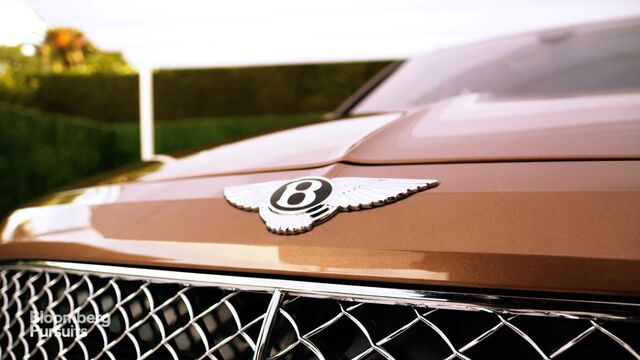 Bentley has finally unveiled the 2016 Bentayga.
The much-hyped SUV has been in the works since 2012; Bentley chief Wolfgang Durheimer has long promised it'll be the fastest, most powerful, most luxurious and most exclusive SUV ever made.
Driving impressions remain to be seen, but on paper, at least, it looks as though he has kept his word.
Bentley's 6.0-litre W-12 behemoth will muster 600 horsepower and 663 foot pounds of torque over its four-wheel-drive, eight-speed, automatic transmission. It'll go to 60 mph in four seconds and hit a top speed of 187 miles per hour. (That beats the Porsche Cayenne Turbo S by roughly 10 mph and the Mercedes-Benz GLE 63 S AMG by about 13 mph.)

Sharp Looks, Still a Bentley
After some redesign following harsh criticism about its bulbous nature when it was first introduced, the Bentayga now has sharp, aggressive features, such as four brilliant LED headlamps hung near the large diamond matrix grille and a serious skid plate in the lower section of the front bumper below the floating wing motif. There's a panoramic window that covers 60 percent of the roof and silver letter Bs incorporated in the air vents, the wheels, the grill, and all over inside. 
Bentayga comes with eight drive modes, each tailored to specific driving conditions and preferences. The idea is to cosset you in such a cocoon of luxury that you'll feel at home in the Mojave desert and on Park Avenue.

Bentley has also incorporated an all-new direct- and indirect-fuel injection system that switches between the two methods to achieve lower emissions and higher fuel efficiency. This SUV gets 12 percent better mileage over any of Bentley's previous models. Diesel and hybrid versions will go on sale in the next few years.

Inside the Grand Dame of SUVs
Each Bentayga will be handmade in Crewe, England, by third- and fourth-generation workers who spend hours stitching, polishing, and refining even the littlest detail inside.
The car comes with a choice of four or five seats covered in hides taken from bulls bred in the Alps and tanned with all-natural ingredients. Each one is individually selected and inspected for blemishes and defects. Bentley will offer 15 different colors of leather, plus dozens of combinations with exotic woods and gleaming brushed metal trim.

Other details include a Breitling tourbillon clock on the dash with a choice of either a pearl or black ebony face and eight diamonds embedded inside. There's an 8-inch, crystal-clear touch screen and infotainment system with a rear-seat tablet that has 4G Wi-Fi and a Naim surround sound system. The unmistakable Bentley diamond stitching is everywhere inside, including inside the ski hatch that goes through to the hands-free tailgate in the rear. You can even choose to have Bentley make you a matching picnic hamper complete with a refrigerator, Linley China cutlery, crystal glasses, and a storage area for dry foods. 
The general feeling is one of comfortable, presumed wealth. The details seem neither outré nor outrageous; they're naturally splendid.
Bentley also offers bespoke services created by the craftsmen at the shop in Mulliner. There, if you can foot the bill, they'll create the coolest SUV you can imagine. Popular add-ons include wooden cabinets to hold watches and jewels, cigar humidors, gun safes, bullet-proofing, and leather dyed to match favorite articles of clothing.

All Part of the Plan 
The effort is a key part of parent-company Volkswagen's master plan to bump Bentley's output to 15,000 units sold in the next three years. (Last year it sold just over 11,000 worldwide; executives say they'll make approximately 3,000 Bentaygas next year alone.) China and other BRIC markets are particular targets for the new rig, since rough roads and other geographical and safety hazards can characterize their driving conditions. 
Bentley has declined to name pricing yet for the Bentayga, but a base model will start in the mid-$200,000 range. Deliveries begin early next year. 

Before it's here, it's on the Bloomberg Terminal.
LEARN MORE