Whitbread to Raise Prices as Solution to U.K. Living Wage Cost
By
Company facing higher wages bill after changes to minimum pay

Costa Coffee chain hasn't increased prices since 2011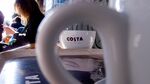 Whitbread Plc became one of the first companies to signal it will raise prices as a means of paying for the U.K. Government's introduction of a National Living Wage.
The owner of Premier Inn hotels and Costa Coffee shops will make selected items more expensive to help offset a rise of 15 million pounds ($23 million) to 20 million pounds in its wage bill, Chief Executive Officer Andy Harrison said Tuesday.
From April, all U.K. companies will be required to pay 7.20 pounds an hour to workers over the age of 25, compared with a current minimum wage of 6.50 pounds. By 2020, that will rise to 9 pounds an hour.
The new wage, announced by U.K. Chancellor of the Exchequer George Osborne in July, is putting pressure on employers to cut expenses. In August, the Confederation for British Industry -- a trade body for business in the U.K. -- said the Government was gambling that the labor market can absorb such increases in wage costs. Tim Martin, chairman of pub-owner JD Wetherspoon Plc, said in July that the policy was a "capricious initiative" that would jeopardize the pub industry's financial outlook.
Whitbread will also mitigate the impact of a higher wage bill through efficiency savings and training, Harrison said. About 34,000 employees at the Dunstable, England-based company will be paid the Living Wage, he said.
Whitbread, which has not increased prices at Costa Coffee since 2011, has maneuverability to do so in a growing coffee market, said Nigel Parson, an analyst at Canaccord Genuity. A cappuccino costs about 2.45 pounds at Costa compared with 2.60 pounds at competitors Starbucks and Caffe Nero, Harrison said on a call with investors.
Shares in Whitbread fell as much as 4 percent on Tuesday after the company reported weakening sales growth at both Costa and Premier Inn.