Where the 2016 Republicans Stand on Kim Davis
The GOP field is divided on how to deal with the Kentucky clerk's refusal to issue marriage licenses to same-sex couples.
By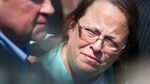 If any political observers thought that the Supreme Court's June decision in support of gay marriage took the issue off the table, they're being sorely disappointed. The jailing of Kim Davis, the county clerk who refused to issue marriage licenses to gay couples, has put it right back into the political debate again, as this week's visits to Kentucky by Republican presidential candidates Mike Huckabee and Ted Cruz demonstrate. Here's what candidates in the Republican field have said about Davis so far.
Donald Trump
Issue licenses: "That's the law of the land," the Republican front-runner said Sept. 4 on MSNBC's Morning Joe.
Jeb Bush
Middle ground: "It seems to me there ought to be common ground," the former Florida governor told supporters at a Sept. 2 town hall event in Laconia, New Hampshire, according to NBC. "There ought to be big enough space for her to act on her conscience and for, now that the law is the law of the land, for a gay couple to be married in whatever jurisdiction that is."
Ted Cruz
Stand with Kim: "We should make it possible for believers, such as Rowan County Clerk Kim Davis in Kentucky, to hold government jobs without having to violate their religious beliefs," said a post on the Texas senator's Facebook page. "We can work together to come up with alternative ways to ensure that government functions are accomplished without infringing on religious liberty." Cruz will be in Kentucky on Tuesday to support Davis.
Marco Rubio
Middle ground: "While the clerk's office has a governmental duty to carry out the law," the Florida senator said in a Sept. 2 statement to the New York Times, "there should be a way to protect the religious freedom and conscience rights of individuals working in the office."
Scott Walker
Middle ground: "Governor Walker has always believed marriage is between one man and one woman and has consistently said that states should have the right to define marriage under the Constitution," a spokesperson for the Wisconsin governor told Talking Points Memo. "As president, he will enforce the law, which means also protecting the religious liberty of all Americans."
Rand Paul
Middle ground: "I think one way to get around the whole idea of what the Supreme Court is forcing on the states is for states just to get out of the business of giving out licenses," the senator from Davis's home state of Kentucky told Boston Herald Radio, according to the Washington Post. He noted "anybody can make a contract."
Carly Fiorina
Issue licenses: "When you are a government employee, I think you take on a different role," the former Hewlett-Packard CEO told Hugh Hewitt on Sept. 1, according to transcripts.
Chris Christie
Issue licenses: "What I've said before is for someone who works in the government has a bit of a different obligation than someone who's in the private sector," the New Jersey governor told Laura Ingraham, according to CBS News.
John Kasich 
Issue licenses: "I respect the fact that this lady doesn't agree, but she's also a government employee," the Ohio governor said Sept. 6 on ABC's This Week, according to transcripts. "She's not running a church."
Mike Huckabee
Stand with Kim: "Exercising Religious Liberty should never be a crime in America," the former Arkansas governor says on a petition on the front page of his website. "This is a direct attack on our God-given, constitutional rights." He is visiting Davis on Tuesday and leading a rally on her behalf.
Bobby Jindal
Stand with Kim: "I don't think anyone should have to choose between following their conscience and religious beliefs and giving up their job and facing financial sanctions," the Louisiana governor told the Huffington Post.
Ben Carson
Issue licenses: The former pediatric neurosurgeon hasn't weighed in personally, but a spokesman told Talking Points Memo gay marriage "is the law of the land" and that Carson "respects" the Supreme Court's decision.
Rick Santorum
Stand with Kim: On Sept. 4, the former Pennsylvania senator called Davis's actions "heroic" on CNN. 
Lindsey Graham
Issue licenses: "As a public official, comply with the law or resign," the South Carolina senator told Hewitt on Sept. 1, according to transcripts.