Where the 2016 Republicans Stand on Kim Davis
The GOP field is divided on how to deal with the Kentucky clerk's refusal to issue marriage licenses to same-sex couples.
By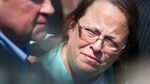 If any political observers thought that the Supreme Court's June decision in support of gay marriage took the issue off the table, they're being sorely disappointed. The jailing of Kim Davis, the county clerk who refused to issue marriage licenses to gay couples, has put it right back into the political debate again, as this week's visits to Kentucky by Republican presidential candidates Mike Huckabee and Ted Cruz demonstrate. Here's what candidates in the Republican field have said about Davis so far.