What Hungary Can Teach Europe About Absorbing Immigrants
Far from becoming welfare cases, foreign-born workers are likelier to be employed than native-born Hungarians. Or is that the problem?
By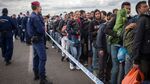 As refugees pour into Europe in historic numbers, one of the fears is that they will become wards of the state, unemployed and living on the dole. Hungarian Prime Minister Viktor Orban has led the fight to restrict the flow of refugees and migrants into what he has called the "Christian welfare states."