United Ousts CEO Smisek Amid Corruption Probe at Port Authority
by
Exits include two executives said to have attended NYC dinner

CSX's Munoz moves in to lead airline from railroad industry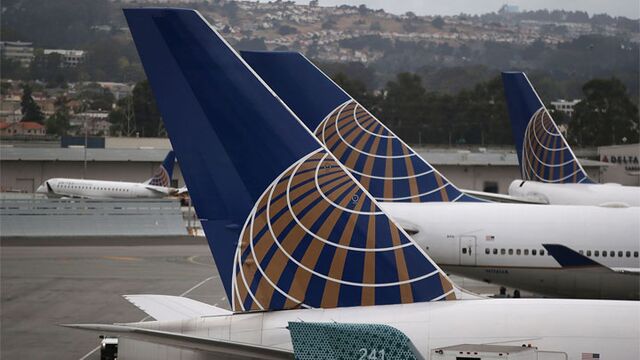 United Continental Holdings Inc. ousted Chief Executive Officer Jeff Smisek and two of his lieutenants while federal investigators probe the airline's ties to the former chairman of the Port Authority of New York & New Jersey.
Smisek's abrupt exit Tuesday added a dramatic new element to the inquiry by U.S. prosecutors into whether ex-Port Authority chief David Samson got the carrier to restart a money-losing route to his weekend home in South Carolina in exchange for political favors. United dropped that service, once known as "the chairman's flight," days after Samson left the agency in 2014.
Two other senior United officials also are leaving, the Chicago-based carrier said. CSX Corp. Chief Operating Officer Oscar Munoz, a United director, succeeds Smisek, 61, effective immediately.
"The departures announced today are in connection with the company's previously disclosed internal investigation related to the federal investigation associated with the Port Authority of New York & New Jersey," United said. "The investigations are ongoing and the company continues to cooperate with the government."
Manhattan Dinner
Samson's apparent request for the New Jersey-to-South Carolina flight, at a dinner with Smisek at a Manhattan Italian restaurant, was the subject of an April story by Bloomberg News. Also attending that dinner, Bloomberg reported at the time, were the two other United officials who left Tuesday: Nene Foxhall, executive vice president of communications and government affairs, and Mark R. Anderson, senior vice president of communications and government affairs.
United agreed to add the flight to Columbia, South Carolina, from the airline's Newark hub after Samson twice threatened to block Port Authority consideration of one or more of the airline's favored projects, according to details gleaned from Port Authority records, people involved in talks between United and the authority, and others close to the investigation.
The agency, which oversees the New York area's major airports, has been under scrutiny after allies of New Jersey Governor Chris Christie closed traffic lanes at the George Washington Bridge. Port Authority spokesman Steve Coleman declined to comment on Tuesday.
Smisek also gave up the titles of chairman, president and director, the airline said, and lead independent Director Henry Meyer III was named non-executive chairman. General Counsel Brett Hart declined to be specific when asked on a conference call how long United had been considering a leadership change.
"We have certain disclosure requirements as it relates to any changes in leadership at the CEO level," Hart said. "We've made those disclosures within that time period. We're very comfortable that the discussions have come to a head within a reasonable period of time. We can't say more than that."
Stock Falls
United fell 1.6 percent to $56.57 at 6:40 p.m. in New York in extended trading. The shares closed at $57.51 to drag their year-to-date decline to 14 percent.
Smisek became CEO after running Continental Airlines and was the architect of the 2010 combination between Continental and former United parent UAL Corp. The Harvard Law School graduate has a reputation for taking chances and being blunt. At Continental, as he wooed the larger United away from a planned merger it was about to announce with US Airways, he famously called then-United CEO Glenn Tilton on his birthday and "told him I was a much prettier girl."
The deal made United the world's biggest carrier, until the 2013 tie-up that created American Airlines Group Inc., and was marked by struggles to achieve financial benefits as quickly as American and Delta Air Lines Inc. did when they found merger partners.
Switching Industries
Munoz, 56, comes to the airline industry after serving as second-in-command at the largest railroad in the Eastern U.S. He told United employees in a letter Tuesday: "I recognize that this news is unexpected, and I want you to hear it directly from me, as United's new CEO."
Munoz, who graduated from the University of Southern California and earned an MBA from Pepperdine University, in February was named president of CSX, prompting analysts and investors to consider him as the heir to CEO Mike Ward, 65. Munoz served as chief financial officer at the Jacksonville, Florida-based railroad for almost nine years before becoming COO in 2012.
Munoz was CFO at AT&T Inc.'s consumer services unit and held executive jobs at Coca-Cola Co. and PepsiCo Inc. He served on the board for United Continental since 2010 and previously was a Continental director.
Smisek is eligible for separation payments worth at least $28.6 million, according to data compiled by Bloomberg from the company's statement and regulatory filings. That includes a $4.88 million cash severance and restricted shares that will vest early, worth $3.5 million at Tuesday's close. It also includes performance-based awards worth $19.5 million at the company's Dec. 31 fiscal year-end. He's eligible to receive a pro-rated portion of his annual incentive award, which paid out $2.34 million to him last year.
He'll receive perks including flight benefits, tax reimbursements on those benefits, and parking privileges for the remainder of his life, in addition to the title to his company vehicle, according to the statement.
Before it's here, it's on the Bloomberg Terminal.
LEARN MORE