U.S. Stocks Rally With Global Equities Amid Optimism on China
By and
Technology, health-care lead rebound after losses last week

Corporate deal activity adds to positive sentiment on stocks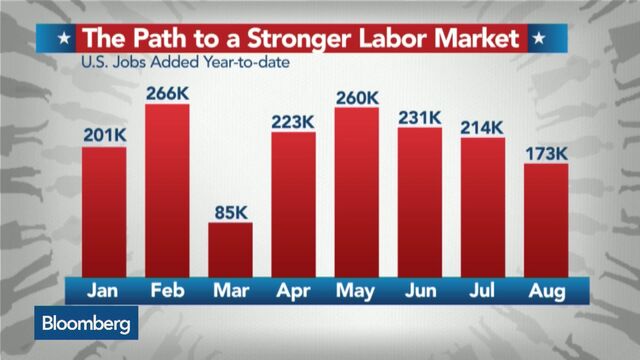 U.S. stocks surged, with the Standard & Poor's 500 Index's second-best gain this year, after signs of stability in Chinese markets led global equities higher.
Apple Inc., Amazon.com Inc., Wells Fargo & Co. and General Motors Co. all posted gains of at least 2.7 percent amid a broad-based rally as investors returned from the Labor Day holiday. Teco Energy Inc. surged 25 percent to a 13-year high after agreeing Friday to a $6.5 billion buyout by Canada's Emera Inc. Meredith Corp. added 10 percent after Media General Inc. agreed to buy the company in an acquisition valued at about $2.4 billion.
The S&P 500 jumped 2.5 percent to 1,969.41 at 4 p.m. in New York, after the gauge's second-biggest weekly retreat in 2015. The Dow Jones Industrial Average rallied 390.30 points, or 2.4 percent, to 16,492.68. The Nasdaq Composite Index advanced 2.7 percent. The Dow and Nasdaq Composite joined the S&P 500 to also mark their second-best rallies in 2015. About 6.8 billion shares traded hands on U.S. exchanges, 4.5 percent below the three-month average.

"Now that China showed that it was not going to break down further, our market is taking back what it lost on Friday," said Matt Maley, an equity strategist at Miller Tabak & Co LLC in New York. "The market got hit hard on Friday because people were worried about China."
Equities around the world climbed today, led by China. A rally in Shanghai in the final hour of trading followed a pattern that has recently suggested state intervention to prop up the nation's equities. U.S. stocks have turned more volatile in recent weeks amid concerns that a Chinese economic slowdown will weigh on global growth, while investors bet the Federal Reserve is on course this year for its first interest-rate increase since 2006.
More Volatility
The S&P 500 swung up or down an average of 2 percent a day for more than two weeks through Friday, while before Aug. 20, the 2015 average was around 0.6 percent. In 10 of the last 13 days, the benchmark has closed with a move of at least 1.3 percent. The Chicago Board Options Exchange Volatility Index snapped a streak of 11 straight sessions above 25, a level that before August it touched on just five days since 2011. The measure of market turbulence known as the VIX fell 10 percent Tuesday to 24.90.
U.S. stocks slumped last week as August payrolls data gave little guidance on interest rates. The S&P 500 lost 3.4 percent, the second-biggest retreat since December behind the 5.8 percent plunge it suffered in the five days through Aug. 21. The Dow Jones Industrial Average has had declines of more than 270 points in five of the last 12 sessions, the biggest cluster of selloffs since the summer of 2011.
Investors remain confident the Fed will raise borrowing costs this year, even as they pare bets on policy makers deciding to do so at a meeting next week. Traders are pricing in a 28 percent chance the central bank will increase rates at this month's gathering, down from 48 percent before China's currency devaluation on Aug. 11. Odds of a move at the December meeting are 59 percent, according to data compiled by Bloomberg.
"These next two weeks are very important -- the Chinese market has reopened, we have FOMC next week, we may get some guidance from U.S. companies," said Pierre Mouton, who helps manage $8.3 billion at Notz, Stucki & Cie. in Geneva. "When it comes to the Chinese situation, it's important that either you're positive and think the government can handle the situation and everything will come back to normal, or you're negative and think a downward spiral has started."
Broad Rally
All of the S&P 500's 10 main industries climbed at least 1.4 percent Tuesday, with health-care, technology and industrial companies rising the most, up more than 2.7 percent.
"We're just enjoying the snapback rally today," said Walter "Bucky" Hellwig, who helps manage $17 billion as a senior vice president at BB&T Wealth Management in Birmingham, Alabama. "The market was slightly oversold and there was a lack of any bad news from over the weekend."
Semiconductors led the gains in technology shares. Microchip Technology Inc. added 9.4 percent, the most in almost seven years, after raising its fiscal second-quarter profit and revenue outlook. Intel Corp. and Nvidia Corp. rose at least 3.4 percent. Microsoft Corp. and Apple both gained more than 2.7 percent.
CSX Corp. and Union Pacific Corp. paced an increase among industrial shares, with the two railroads up at least 3.6 percent. The Dow Jones Transportation Average rallied 2.8 percent, and a Bloomberg gauge of U.S. airlines increased 2.1 percent. Among other industrials, General Electric Co. advanced 4 percent after receiving approval from European and U.S. antitrust regulators to buy most of Alstom SA's energy business. Boeing Co. rose 3.1 percent, its strongest day in seven months.
Banks climbed for the third time in four sessions. Wells Fargo and Bank of America Corp. gained more than 3.2 percent. Morgan Stanley and Goldman Sachs Group Inc. added at least 3 percent. E*Trade Financial Corp. climbed 7.5 percent, the most since January, after restructuring its bank balance sheet to eliminate $4.4 billion of wholesale funding obligations by the end of the quarter.
The Nasdaq Biotechnology Index surged 4.2 percent, winning back almost all of its 4.3 percent loss last week. Regeneron Pharmaceuticals Inc., Amgen Inc. and Celgene Corp. each rose more than 4.8 percent. Aetna Inc. and UnitedHealth Group Inc. added at least 3.3 percent to help health-care companies in the S&P 500 rebound 2.9 percent after a 4.4 percent drop last week.
Netflix Slumps
Freeport-McMoRan Inc. jumped 7.1 percent to lead the raw-materials group as copper rallied the most in two years. People familiar with the matter also said the company is working with JPMorgan Chase & Co. to review its strategy following activist investor Carl Icahn's entry into the shareholder register. Dow Chemical Co. gained 4.8 percent, while Alcoa Inc. increased 2.4 percent.
Chesapeake Energy Corp. rose 5.5 percent, the best advance among energy companies today. The oil and natural gas producer reached agreements with pipeline operator Williams Cos. to revise natural gas shipping contracts in Louisiana and Ohio in a move that will help conserve more cash. Refiners Valero Energy Corp. and Tesoro Corp. gained more than 4 percent, the most in nearly a month.
Strategic Hotels & Resorts Inc., an owner of luxury lodging properties across the U.S., climbed 3.5 percent after agreeing to be bought by Blackstone Group LP for about $3.93 billion in an expansion of its hotel holdings. Blackstone rose 5.2 percent.
Concordia Healthcare Corp. fell 11 percent, the most since January 2014. The Toronto-based drug maker's agreed to buy Amdipharm Mercury Ltd. from European private equity firm Cinven and other investors for about $3.5 billion in cash, shares and a deferred payment.
Netflix Inc. slumped 3.9 percent, the worst in the S&P 500, to fall for a seventh session amid its longest losing streak since March 2014. The online video-streaming service's shares are down 19 percent since Aug. 27 and reached a two-month low.