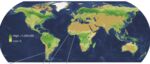 In the fight against climate change, the health of global forests is critical. Forest store carbon, purify air and water, and provide essential habitats and resources for countless species, humans very much included.
But attempts to quantify the number of trees in the world have been pretty sketchy—based on satellite imagery, approximations of forest cover, and little "ground truth." How are scientists supposed to manage what they haven't accurately measured?

A new study published in Nature offers a new arboreal arithmetic, as well as the most complete global map of forest density available yet. Earth is home to more than 3 trillion trees, the authors estimate, roughly seven and a half times higher than previous estimates. To put it another way, for every human, there are about 422 trees.
Nature's news site explains how Thomas Crowther, lead author and a postdoctoral fellow at the Yale School of Forestry & Environmental Studies, arrived at that number:
Crowther and his colleagues merged [old] approaches by first gathering data for every continent except Antarctica from various existing ground-based counts [actual tallies of trunks] covering about 430,000 hectares [about 1,060 acres]. These counts allowed them to improve tree-density estimates from satellite imagery. Then the researchers applied those density estimates to areas that lack good ground inventories. For example, survey data from forests in Canada and northern Europe were used to revise estimates from satellite imagery for similar forests in remote parts of Russia.
Studying the map, you can see how the sub-arctic reaches of Eurasia and North America have the highest tree density. Meanwhile, the tropics host the largest amount of forest, about 43 percent of all the world's trees.
High-resolution, spatial data on trees is useful for all kinds of research, the authors write. It gives scientists a more nuanced picture of water and carbon cycles, where endangered species might be, and where to aim restoration efforts.
Indeed, while the study illustrates how arboreal Earth really is, it also reflects how tree density falls, dramatically, as human population grows. In fact, the authors estimate that there are about 46 percent fewer trees than there were at the end of the last ice age, when human civilization emerged. And they're continuing to disappear.
"We've nearly halved the number of trees on the planet, and we've seen the impacts on climate and human health as a result," Crowther said in the study's press release. "This study highlights how much more effort is needed if we are to restore healthy forests worldwide."