Senate Leaders Fight Over Democrats' Power to Bar Iran Vote
Billy House and Kathleen Miller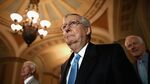 U.S. Senate leaders clashed Tuesday over whether Democrats who support the nuclear deal with Iran can block the chamber from voting to disapprove the accord.
Senate Majority Leader Mitch McConnell, a Kentucky Republican, called for an up-or-down vote this week on the disapproval resolution.
President Barack Obama locked up support for the Iran agreement from 42 members of the Senate Democratic caucus -- enough to block a vote on the Republicans' resolution if the Democrats stick together. It's unclear whether they will, though, as Delaware's Chris Coons has said he backs the Iran deal but also wants the Senate to vote on whether to approve it.
"I call on every senator to resist attempts to obstruct a final vote and deny the American people and Congress the say they deserve on this important issue," McConnell said as Congress returned from its August recess.
The final outcome is sealed anyway.
Obama has more than enough Democratic support to preserve the Iran deal even if Congress passes a resolution disapproving it. He has promised a veto, and Senate Republicans lack the votes for an override.
At issue in Tuesday's dispute is whether Senate Democrats can keep McConnell's resolution from reaching Obama's desk and avoid a veto altogether.
Economic Sanctions
The agreement would ease economic sanctions on Iran in exchange for curbs on the country's nuclear program. Obama has lobbied hard for Democratic support and has made pitches to U.S. Jewish leaders to counter opposition to the deal by Israeli Prime Minister Benjamin Netanyahu.
Obama's administration formally notified Congress Tuesday that the president would veto a resolution disapproving the deal. "It would effectively block the international community from peacefully and verifiably preventing Iran from acquiring a nuclear weapon," the message said.
Four Senate Democrats -- Richard Blumenthal of Connecticut, Gary Peters of Michigan, Maria Cantwell of Washington and Ron Wyden of Oregon -- said Tuesday they will support the deal. Thirty-eight members of the Democratic caucus previously announced their backing.
"I believe the proposed agreement, using diplomacy, not military force, is the best path now available to prevent a nuclear-armed Iran," Blumenthal said in a statement.
Cantwell told reporters she was satisfied by a classified briefing about the agreement by Energy Secretary Ernest Moniz.
Senate Minority Leader Harry Reid, a Nevada Democrat, said Tuesday he will insist that 60 Senate votes are required for McConnell's resolution of disapproval.
"The Republicans are insisting the Senate go through all the procedural steps, including cloture, on their own bill," Reid said.
41 Votes
Second-ranking Senate Democrat Dick Durbin of Illinois told reporters he didn't know whether there would be 41 votes to block McConnell's resolution before it comes up for a final passage vote.
Coons spokesman Sean Coit, in an e-mail, didn't say whether the senator would join other Democrats in blocking a vote. Coons supports on a procedure that will "allow each senator to make their individual position clear," Coit said.
Democratic Senator Joe Manchin of West Virginia said Tuesday he opposes the agreement. He is the fourth Senate Democrat to oppose the accord.
"I do not believe that supporting this deal will prevent Iran from eventually acquiring a nuclear weapon or continuing to be a leading sponsor of terrorism against Americans and our allies around the world," Manchin said.
Democratic Opponents
The other Senate Democrats who broke with Obama over the deal are Chuck Schumer of New York, Ben Cardin of Maryland and Bob Menendez of New Jersey. In July, Manchin had said he was leaning toward supporting the measure.
Republican Senator Susan Collins of Maine, the only member of her party who had said she was undecided, announced her opposition to the agreement in a floor speech Tuesday.
"The agreement is fundamentally flawed," Collins said. "It leaves Iran as capable of building a nuclear weapon at the expiration of agreement as it is today."
The Senate began debate Tuesday on the nuclear agreement. The House is set to start debating the measure Wednesday, and votes in both chambers must be held by a Sept. 17 deadline.
Regarding Manchin's decision to oppose the deal, Reid said, "Everybody has a right to their own decision." The minority leader added, "He's flopped around on this a few times. At least now we know where he's at."
The 435-seat House has more than the 218 votes needed to pass a resolution of disapproval in that chamber.
At least 230 Republicans and 15 Democrats are opposed to the deal. At least 105 of the chamber's Democrats support the agreement, while the rest have yet to announce their position.