Media General To Buy Meredith In Deal Valued About $2.4 Billion
Gerry Smith, Amy Thomson and Tom Lavell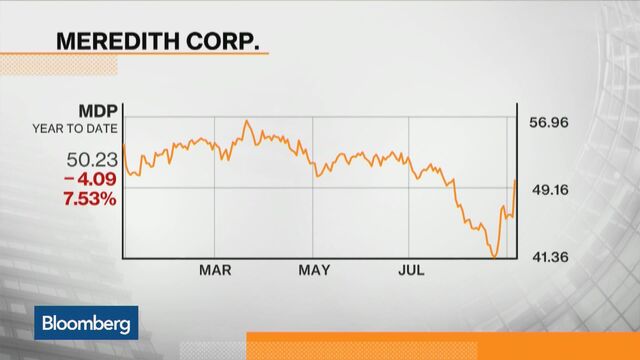 Media General Inc. agreed to buy Meredith Corp. in a cash and stock deal valued at about $2.4 billion, the latest in a series of transactions between local broadcasters looking to gain leverage in negotiations with pay-TV providers.
The new company, led by Meredith's Chief Executive Officer Steve Lacy, will be called Meredith Media General. It will reach about 30 percent of U.S. homes with a TV, and will be the third-largest owner of network affiliates, the companies said in a joint statement Tuesday. The company will also reach 100 million women with the addition of Meredith's magazines like Better Homes and Gardens and Shape.
Media General and Meredith specialize in operating local affiliates of broadcast networks including 21st Century Fox Inc., CBS Corp., Comcast Corp.'s NBC and Walt Disney Co.'s ABC. The combined company will be able to charge higher rates, known as retransmission fees, to pay-TV providers like AT&T Inc.'s DirecTV for the right to carry their stations, analysts said. The merger is the latest in a flurry of similar deals between local broadcasters. In 2013, Gannett Co. agreed to buy Belo Corp. for about $1.5 billion, while Media General bought New Young Broadcasting Holding Co.
"There is value to be driven by scale in broadcasting and the ability to garner higher retrans fees," said William Byrd, a media analyst at FBR Capital Markets. "There is an advantage to having more stations deliver more content."
The combined company's expanded TV presence in political battleground states such as Florida, Ohio and Pennsylvania will also boost local TV advertising revenue, Lacy said on the call. It will have "much greater opportunity to be in the right place at the right time," he said.
Deal Financing
The deal looks almost like a leveraged buyout. JPMorgan Chase & Co. and RBC Capital Markets have committed $2.8 billion to back the transaction, which dwarfs the equity value of the merger. Initially, the funding would boost the new company's net debt to almost 5.5 times a measure of its earnings, although the companies said it expects to decrease that leverage to between 3 and 3.5 times earnings within two years.
Debt levels "can come down quite quickly" as the company generates more political ad revenue, Joseph Ceryanec, Meredith's chief financial officer who will remain in that role, said on a conference call Tuesday.
Media General fell 6 percent to $10.48 at the close in New York, putting the stock down 37 percent this year. Meredith gained 9.9 percent to $50.47, the biggest one-day advance in almost four years.
Meredith shareholders will receive cash and stock amounting to $51.53 per share, 12 percent higher than the company's closing price on Sept. 4, the companies said. Including Meredith's $722 million in debt, the deal is valued at about $3.1 billion.
Golden Parachute
Media General shareholders will get a share of the new company for every one they owned in the old business. After the deal, Meredith shareholders will own 35 percent of the new company and Media General's investors will hold 65 percent.
Lacy has a golden parachute worth $36.3 million at the offer price, according to data compiled by Bloomberg from the company's filings. That includes $7.9 million in cash, a $16.4 million pension, $6 million in equity awards that will vest early and $204,672 in other perks and benefits. The payouts would be triggered if he's terminated within two years of the deal, if his office is moved, if his salary is reduced, or his role is substantially changed.
The deal is expected to close by June 30, 2016, following approval from shareholders and regulators. RBC Capital Markets served as financial advisers to Media General, and BDT & Co. and Moelis & Co. advised Meredith.